March 24, 2016 | Holiday Guides, Wine Pairing Recommendations | Adirondack Winery Staff
Easter Dinner Wine Pairings
For many, Easter is a time for family, friends and food – and it never hurts to add a few bottles of wine to the mix! No matter what you choose for your Easter dinner, we've taken the stress out of choosing just the right wines. Here are some of our favorites.
HAM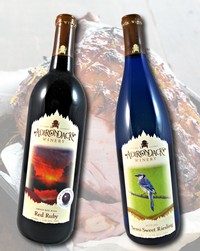 We suggest complimenting the sweet and salty richness of a glazed ham with a sweet wine – or at least one with a touch of sweetness. Red Ruby is our first choice. Deliciously sweet and bursting with flavor, this red blend serves a balance of fresh grape, strawberry jam, and candied berry flavors. If that sounds a little too sweet for your taste, consider a glass of Semi-Sweet Riesling. Full-bodied and luscious, this wine brings aromas of peach with flavors of juicy pineapple and just a hint of lime.
CHICKEN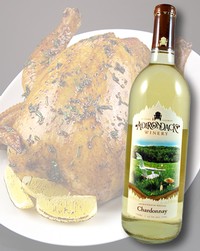 Versatile in flavor, a roast chicken calls for an equally versatile white wine. That's why we suggest Chardonnay. Lightly oaked and dry, you'll find ripe pear on the nose with slight tones of vanilla and coconut on the finish. A flavorful roasted chicken deserves a wine with flavor, and this chardonnay is the one.
LAMB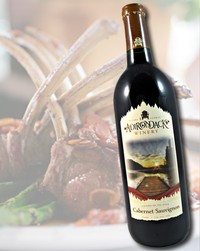 Leg, rack or chop, Lamb is strong in flavor, big and gamey. Virtually any red pairs well, but we suggest Cabernet Sauvignon. A complex wine with firm tannins and earthy and floral tones, this wine is an absolutely perfect complement to any lamb dish. Its unmistakable texture and dynamic fruit tones – nicely balanced with oak – promise one glass won't be enough.
VEGETABLES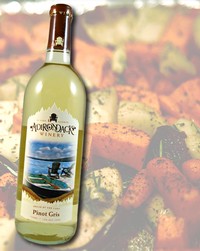 No Easter dinner is complete without a sampling of roasted vegetables. Roasting slightly sweetens vegetables, causing them to lose some of their "green" flavor. A crisp, dry white goes well. We suggest our best-selling dry white, Pinot Gris. With floral, smoky, honey-tinged flavors, this wine is so pleasantly drinkable, don't be surprised if it becomes the only wine you have with dinner.
CHOCOLATE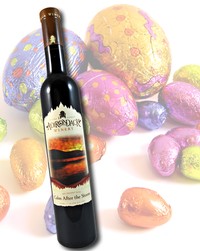 Last but certainly not least, what is Easter without chocolate? For those that can't help but indulge, we suggest pairing your chocolate with Calm After the Storm. This rich red dessert wine is an intricate mélange of flavors that tempt the nose and reward the palate. This wine comes up big with rich aromas of dark chocolate framed with orange and vanilla notes – so good you may end up skipping the chocolate altogether.
As always, the perfect pairing for any meal is your favorite wine, no matter what it is. We hope you enjoy our suggestions. Happy Easter!
*All paring suggestions are based on unique profiles of wines from Adirondack Winery.
Comments