November 15, 2016 | Wine Pairing Recommendations | Adirondack Winery Staff
Thanksgiving Dinner Wine Pairing Cheat Sheet
Arranging the perfect Thanksgiving dinner can be a daunting task, but we're here to help! Consider this your introduction in finding the perfect wines to bring to dinner next week. We've listed a couple of our favorite appetizers and sides sure to be found at Thanksgiving and paired them with a few of the wines we think you'll enjoy the best. Cheers!
Stuffed Mushrooms
Stuffed mushrooms are meaty, earthy, delicious and bursting with spice. We love the way our Cabernet Franc stands up to this appetizer no matter what the stuffing. The peppery perfume, raspberry tones, and touch of spice in this deep, dry red stand up perfectly to every flavorful bite.
Try Cabernet Franc >>
Pigs in a Blanket
Pigs in a Blanket are a staple for many family gatherings – one of the premiere finger foods. We think something bright and light like Semi-Dry Riesling is the way to go. Its light sweetness works well with rich pork flavors while its fruit tones nicely compliment the buttery crescent roll.
Try Semi-Dry Riesling >>
Sweet Potatoes
Mashed and topped with marshmallows or oven roasted, no matter how you like your sweet potatoes prepared, our favorite pairing here is Merlot. It's medium-bodied, soft and silky, while fruit-forward with touch of brown spice and herbs, and makes the perfect complement to this earthy vegetable.
Try Merlot >>
Stuffing
What's a Thanksgiving dinner without stuffing?! There's a lot going on in stuffing, which is why Gewurztraminer makes the perfect pair. With notes of ginger and tart apricot, the light sweetness of this semi-dry white stands up well to any flavors that might find their way into your stuffing.
Try Gewurztraminer >>
Pecan Pie
Pairing wine with dessert can be tough. You'll want to try to find a wine that can match the dessert's sweetness. That's why Ports and pies make natural partners, and our favorite for this dessert is Fireside Reserve. It's a traditional Port wine with bold aromas and flavors, just like a pecan pie. If Port seems a little too sweet for you, we suggest pairing it with our blackberry infused red, Amethyst Sunset.
Try Fireside Reserve >>
Try Amethyst Sunset >>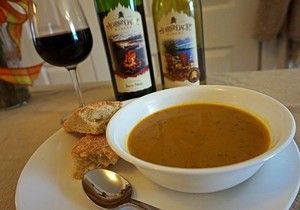 The best pairing is always your favorite wine, but we hope you've enjoyed these suggestions! Want even more sure-fire wine pairings for your Thanksgiving celebration? Check out Wine 101: Wine & Food Pairing this Friday (November, 18th) at 7pm at the Tasting Room in Lake George! You'll get a taste of five classic Thanksgiving courses, each paired with a white and red wine, while you learn about what goes into finding the perfect pairing every time. You'll also get to take home a souvenir wine glass and food pairing wheel to reference later! To learn more about this new course, CLICK HERE.
Comments