CURBSIDE PICKUP SPECIALS
Your One-Stop Shop for Gift Giving!
Adirondack Winery has all of the essentials you can enjoy at home! Choose from our pre-made gift baskets or customize your own. With any $50 purchase you receive the basket free and we will pull it all together for you! Available only for Curbside Pickups at our Tasting Rooms. Call the following numbers to order these products today!
Lake George (Sun-Thurs: 11am - 6pm; Fri & Sat: 11am-7pm)
518-203-2597
Bolton Landing (Fri-Sun: 11am - 6pm; Closed Mon-Thurs)
518-708-6672
---
Build Your Own Picnic Basket
Available at Tasting Rooms ONLY

Buy 2 Bottles of wine & receive 20% off ALL food items! Need more than 2 bottles? Not a problem - bottle deals still apply to picnic baskets!

Adirondack Cheese Company
WAS: $5.99-$9.99 NOW: $4.79-$7.99
Sharp Cheddar | Extra Sharp Cheddar | Hickory Smoked Cheese | Sundried Tomato Basil Cheddar | Maple Bacon Cheddar Spread | Blue Cheese Spread | Port Wine Spread | Orange, Honey & Cranberry Cheddar Spread
Nettle Meadow Farms
WAS: $7.49 NOW: $5.99
Roasted Red Pepper Fromage Frais | Garlic & Oil Chevre | Honey Lavender Fromage Blanc | Apple Cider Fromage Frais | Maple Chevre | Fig & Honey Fromage Frais
Kimmy's Krakkers from Triple Green Jade Farm
WAS: $8.99 NOW: $7.19
Five Seeded Maple | Fig & Kalamata Olive | Dried Fruit, Hazelnut, Rosemary
We also carry wine infused jellies, Bloody Mary mix, a variety of chocolate truffles and much more! Call us today to customize your picnic basket for PICKUP at our Lake George or Bolton Landing Tasting Rooms!
*Picnic basket cost is $8. Spend $50, get the basket FREE!
---
OR Choose From a Pre-Made Basket!
---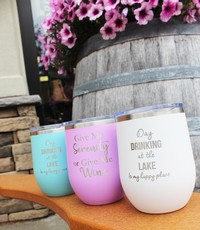 Exclusive Accesories at the Tasting Room
Our Tasting Rooms have a HUGE selection of drinkware, apparel, wine accessories and more that you can't get online!
This includes stainless steel sippy cups with specialty sayings on it, ADK Winery sweatshirts and t-shirts and so much more!
Give us a call at 518-203-2597 or 518-708-6672 for more info about what's available!
Or if you're not in the area, click here to see what you CAN have shipped directly to your home!