Online Shopping FAQ

What States Do We Ship To?
Adirondack Winery is committed to getting all our customers the wine they want as fast as possible. We are proud that we are able to ship wines to 35 States! Check out our shipping Map and see if we ship wine to your state!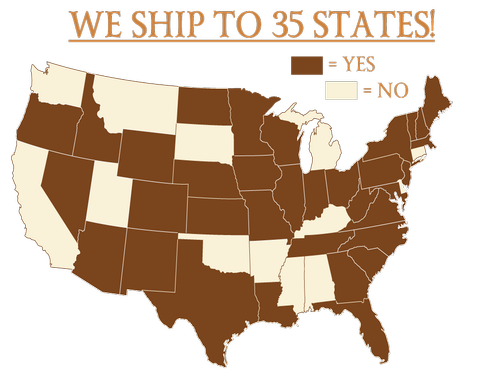 States Adirondack Winery Ships To

| | |
| --- | --- |
| Arizona | Colorado |
| District of Columbia | Florida |
| Georgia | Idaho |
| Illinois | Iowa |
| Indiana | Kansas |
| Lousiana | Massachesetts |
| Minnesota | Missouri |
| Nebraska | Nevada |
| New Hampshire | New Jersey |
| New Mexico | New York |
| North Carolina | North Dakota |
| Ohio | Oregon |
| Pennsylvania | South Carolina |
| Tennesse | Texas |
| Vermont | Virgina |
| West Virginia | Wisconsin |
| Wyoming | |
Don't See Your State? No Worries!
If your shipping state IS NOT listed above, Adirondack Winery is unable to ship directly to your state. Instead, we encourage you to ship your order to a friend in a neighboring state we CAN ship wine to, Pick your order up in our tasting room, OR visit the following websites, which have a small selection of our wines and may be able to ship our wine to your state:
We Speak Wine
Exit 9 Wine & Liquor
Empire Wine
Bremer's Wine & Liquor
Marketview Liquor
All Star Wine & Spirits
New York Wine & Liquor Warehouse
Please note, when dealing through a third party; wine prices, discounts, and shipping costs may differ from those appearing on AdirondackWinery.com.
When Will I Get My Wine?
Adirondack Winery is committed to processing and shipping out your order in less than 24 hours! You will always get an email that updates you when your package has left our facility and will provide a tracking number. Online Shopping with ADK Winery is EASY! Orders arrive faster than you might think (as soon as 24 hours!) For states that are further away from New York expect your orders to be there in 2-4 business days! If you ordered your wine more than 24 hours ago and have not recieved an email, please contact our Customer Service Representative by calling 518-668-9463.
More Questions?
If you have any more questions about our shipping policies please check out our shipping policies page linked below. If you have any other specific questions about shipping please message us in our chat box in the right hand corner of this screen OR feel free to call us at 518-668-9463!
Thank you!