November 16, 2015 | Holiday Guides | Adirondack Winery Staff
Our Thanksgiving Secret?... Just Add Wine!
Think you're a Thanksgiving pro? Sure it's a lot of work, but you've got it down after all these years, right? Turkey – Check… Stuffing – Check… Cranberry Sauce – Check…
It's true that Turkey Day comes with a certain level of expectations, and we don't want to turn your pineapple upside down cake right-side up, however, we believe you can serve your traditional Thanksgiving dishes with a new and exciting twist.
Here's the secret…. Just add wine!
First you need to pair your Thanksgiving staples, so we've made you a little Thanksgiving cheat sheet: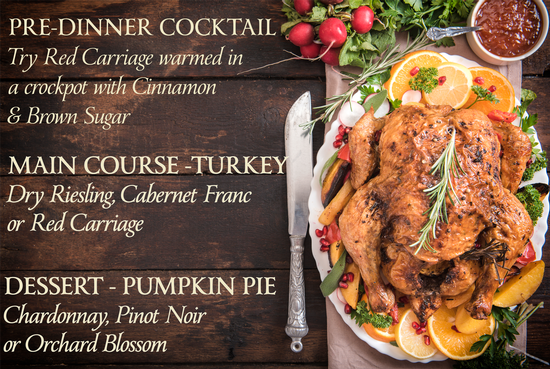 *Helpful Tip - For any occasion, we recommend having at least one dry white option, one dry red and one semi-sweet or fruity wine option for your guests.
Next we have some new takes on some old recipes that fit perfectly into any Thanksgiving menu.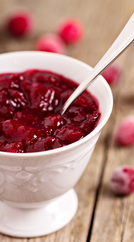 For a side, we are switching out your boring old cranberry sauce (sorry, Grandma), with a Cranberry Riesling Compote! With a splash of our Dry Riesling, this sweet and tangy, wine-infused side is the perfect complement to your turkey dinner and pairs wonderfully with our Pinot Noir. Click here for this simple recipe that will have your guests' mouths watering! >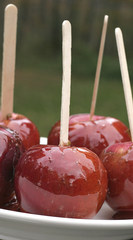 For dessert, we have taken an old childhood favorite and put a grown-up spin on it! Try your hand at our Grown-Up Candy Apples to satisfy your after dinner sweet tooth. We recommend using our Pinot Noir, or our Red Carriage for this recipe. Click here for the full recipe and be sure to make a few extras because people are going to "like them apples!" >
With a little over a week until Thanksgiving, there is still time to whip up a Thanksgiving menu that your guests will gobble up! There is also still time to order your Thanksgiving wine and hostess gifts; Check out our Holiday Shop for our top picks this year. >
Share your pictures on Facebook or Instagram trying one of our wine-infused recipes or enjoying our wines around your Thanksgiving table; Be sure to use #ADKWINERY so we can view and share your photos to our page!
From our families to yours, we wish you a Happy, Healthy & Wine-filled Thanksgiving!
Cheers!
Comments
Commenting has been turned off.