March 1, 2016 | Recipes | Adirondack Winery Staff
Recipe: Citrus Mulled Chardonnay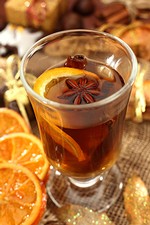 Although it's starting to seem like winter may have missed us this year, some cold weather in the forecast has us really looking forward to Mulled Wine Day on Thursday. If you've never had it, mulled wine is a hot wine beverage often made by steeping red wine with a variety of mulling spices. The spices can vary depending on the recipe, but most include, at least, fresh citrus fruit, cinnamon, cloves and a sweetener like honey or sugar.
We love introducing folks to mulled white wine as a tasty alternative to mulled red or ciders. When making mulled white wine, you'll want to choose a well-rounded, dry wine. Heating an acidic wine often results in a harsh, bitter taste. We prefer to use our "Adirondack Breeze" Chardonnay.
In this recipe, our spices of choice are orange, honey, ginger, cinnamon and cloves, for a well-rounded spicy sweetness. You can also include cranberries for an added tart and tangy taste, and a splash of color. Cheers!
Citrus Mulled Chardonnay
Serves Six
Ingredients:
• 1 bottle (750 mL) Chardonnay
• 1 Orange, sliced thin (plus extra for garnish)
• 1 cup Water
• 1/2 cup Honey
• 1" wide piece of fresh Ginger, peeled and sliced thin
• 3 whole Cinnamon sticks (plus extra for garnish)
• 5-6 whole Cloves
• Optional: 1/2 cup Cranberries (plus extra for garnish)
Directions
1. Combine the fruit, water, honey, ginger, cinnamon and cloves in a saucepan and simmer over
medium heat for 10 minutes. Stir gently to dissolve the honey.
2. Remove the saucepan from the heat and add the Chardonnay to the spice and fruit mixture. Cover the pan and allow the wine to mull for half an hour.
3. Strain the mulled wine through a mesh strainer to remove the cooked fruit and spices.
4. Stir and ladle your hot mulled wine into mugs or wine glasses. Garnish with a cinnamon stick and a slice of orange and serve!
* Not ready to serve? Your mulled wine can also be refrigerated overnight! Before serving, reheat the mulled wine at a low simmer on the stove or in a slow cooker. If you want a stronger flavor, throw in a few more cinnamon sticks, cloves, and another piece of ginger while you reheat. Be sure not to cook the wine too long or too hot, but you may keep it warm to serve throughout the evening.
* If you're not a fan of Chardonnay, or want a sweeter mulled wine, we suggest substituting "White Diamond" or "Prospect Mountain White."
This recipe was adapted from "Cranberry Citrus Mulled Chardonnay" on www.WineMakingTalk.com by Theresa Sinclair.
WATCH THE VIDEO:
Comments
Commenting has been turned off.