November 2, 2020 | Sasha Pardy
THANK YOU for Making Our 2020 Drink Pink Fundraiser an INCREDIBLE Success!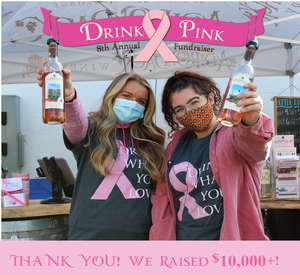 The month of October has concluded and THANKS TO YOU our 8th Annual Drink Pink Fundraiser was a BIG success!
With the support of our INCREDIBLE customers, employees, families, and friends, this year's Drink Pink campaign raised a whopping $11,000 for the Adirondacks Chapter of Making Strides Against Breast Cancer! That's $5,000 more than the goal we set when we began our fundraiser!
And while it is certainly a pleasant surprise, we knew we could count on our team to exceed our hopes from Day 1! Our Adirondack Winery family never ceases to amaze us and because of all of you, breast cancer patients in our very own community will receive critical, life-saving services that will change their lives!
This year's fundraiser kicked off Sept. 16 with the sale of our limited-edition Drink Pink Berry Breeze, a mixed berry-infused semi-sweet rosé wine. We pledged to donate a portion of each wine purchase to Making Strides of the ADKs and with your help, over 1200 bottles of Drink Pink Berry Breeze were sold!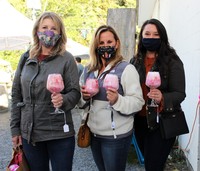 Even with everything going on in the world, we were fortunate enough to keep the tradition alive of hosting Drink Pink Uncork & Craft events; only this year at our Queensbury Headquarters location, as part of our fundraising efforts. Our outdoor Tasting Room was packed for both events with supporters and survivors alike, who came out to help support a great cause! A portion of all tickets sold was donated to Making Strides of the ADKS. These events were such a huge success and everyone who attended had such a great time. You can absolutely look forward to seeing these events again next year! A sincere thank you goes out to Wax 'n' Wix who donated their time and resources to help make these events possible.
At the Tasting Rooms, our Wine Tasting Associates did an exceptional job of spreading the word about all the good we can accomplish together through Drink Pink! They encouraged many of you to get involved - even just by ordering your favorite wines or raffle tickets - and we are so grateful for everyone's help!
Our raffle baskets were another big hit! Throughout the month of October, we sold $5 tickets for a chance to win one of three gift baskets full of over $1,200 in total prizes. These baskets were a HUGE hit and helped us raise more than $2,000 for Making Strides (100% of proceeds of these baskets were donated to this incredible organization).
AND CONGRATS to our Raffle Basket Winners, which you can see here:
Lake George Wine & Accessories Basket: Carol Andrews | Granville, NY
Bolton Landing Wine & Accessories Basket: Kimberly Bercharlie | Selkirk, NY
Queensbury HQ Tote O' Wine: Nadine Healey | Troy, NY
Online Only Basket #1: Day in LG: Laura Unger | Hillsborough, NJ
Online Only Basket #2: Night in LG: Renee Younes | Cairo, NY
Online Only Raffle Basket #3: Taste of LG: Sandy Fecura | Saratoga Springs, NY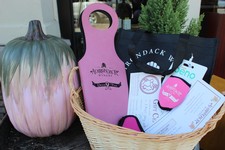 A special thanks to the local businesses who helped make this possible:
Creations By DM | Fort William Henry Hotel & Conference Center | Adirondack Life Magazine | Barkeater Chocolates | Lake George Steamboat Company | The Boardwalk Restaurant | Lake George Distilling | Adirondack Pub & Brewery |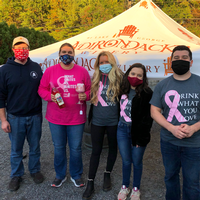 And although there was no walk this year, that didn't stop Making Strides and Adirondack Winery from celebrating all we accomplished.
On Sunday, Oct. 25th, Making Strides hosted a "Making Strides on the Go" event at 3 locations in the Glens Falls area.
Teams from across the region decorated their cars, honked their horns, and celebrated all the good we did collectively for those living with breast cancer right here in the Adirondacks.
We also collaborated on a video to showcase teams in our region, and we were thrilled to be asked to help.
Adirondack Winery is so proud of our team and proud to support an amazing organization like Making Strides Against Breast Cancer. The funds we raised together will be used to support breast cancer research, transportation to and from chemotherapy, a live 24/7 cancer helpline and so much more.
We hope you will join us next year as we continue our mission to help make cancer a problem of the past. Our 9th Annual Drink Pink fundraiser begins next September!
From the bottom of our hearts, thank you so much for supporting this cause that means a ton to our company, our staff, our families, and our friends. We are so grateful for your help and we can't wait to do an even better job next year!
Comments
Commenting has been turned off.