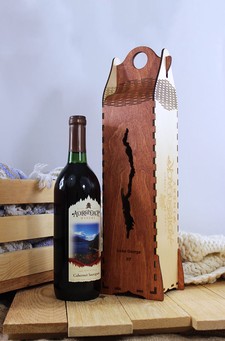 This handcrafted gift box is a stunner - plus it features one of our most popular holiday wines!
This gift set includes:
Cabernet Sauvignon - This medium bodied Cabernet Sauvignon offers a familiar earthy aroma paired with forward berry tones that are nicely balanced with oak and followed by an enjoyable savory finish.

Single Bottle Wooden Gift Box - These boxes feature stunning details like a laser-cut live hinge, two-tone wood panels, dovetail corners, and a Lake George silhouette window that will be sure to impress and give your gift an extra special statement.
*Note: Gift Boxes must be shipped separately of wine or anything else in your order...shipping of $15 per gift box will be separately charged, unless you choose to pickup at the Lake George Tasting Room, Bolton Landing Tasting Room, or Queensbury Headquarters.