Get FREE Shipping on this product! (THIS PRODUCT IS FREE FOR RENEWED GOLD CLUB MEMBERS!)
Enter Code WITHWINE at checkout when you're purchasing wine and you won't have to pay for shipping on this item.
This year we're showing our love for the beauty of the Adirondacks with this attractive 8.5x11, quality printed wall calendar that features gorgeous images of the Lake George area that were taken by customers!
Don't miss your favorite National Wine Holiday or Lake George Region event, as this calendar is chock full of reasons to enjoy wine and the Lake George area! Also includes a bonus wine and food pairing cheat sheet and wine tasting notes pages, too!
The perfect gift for the person in your life who loves wine and the Adirondacks!
FREE copy for Gold Club Members while supplies last! Not a GOLD Member yet? Learn more here>>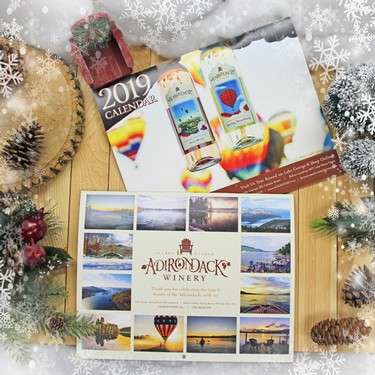 Calendar Photo Credits:
Cover - Sasha Pardy (Co-Owner)
January - Paul Kuehnle
February - Alex Kelly
March - Sasha Pardy
April - Amy Christine
May - Amy Christine
June - Tom Hall
July - Marc Mularz
August - Sasha Pardy
September - Alex Kelly
October - Alex Kelly
November - Alex Kelly
December - Debbie Kuhl