Black Goat Homestead Basket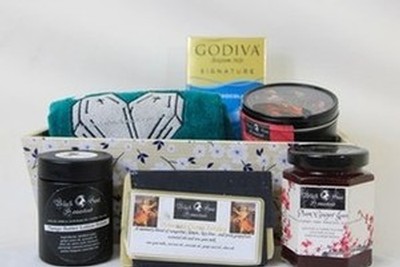 Donate to Making Strides AND get chances to win our amazing raffle baskets! Tickets are on sale throughout October, and 100% of proceeds are donated to Making Strides of the Adirondacks, the beneficiary of our 11th Annual Drink Pink fundraiser!
*Note: You will not receive "physical tickets" for your order, but when you order, your name is automatically entered into our drawing for the number of tickets you purchased. Shipping of the baskets is available at an additional cost. Thank you!
Black Goat Homestead Basket- approx. value $50!
A bar of Pomona's Citrus Sunday soap
Container of Plum Ginger Jam
Container of Mango Butter Lotion Potion
Container of Dragon Queen Tea
Godiva Chocolate
Spooky Hand-towel
At checkout, your name, email, and phone number must be included in checkout information - Please make sure to select the correct basket before adding to your cart!