Adirondack Winery's 7th Anniversary Celebration!
Date: Sat, April 11th
Time: 6p - 9p
Location: The poolside event space at The Ramada
*Tickets on sale now!
Tasting Room Events
March 2015
April 2015
May 2015
June 2015
Off-Site Wine Festivals & Tastings
April 2015
Utica Wine & Chocolate Festival
3:00 AM to 9:00 PM
Sat, Apr 18, 2015
Venue:
Utica Auditorium (400 Oriskany Street West, Utica NY 13502)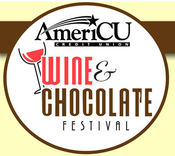 Visit our booth at the 7th Annual Wine & Chocolate Festival in Utica! Tasting glass and wine samples are included with admission & you'll be able to take home your favorite wines by the bottle!
May 2015
Rip Van Winkle Wine & Cheese Festival
12:00 PM to 5:00 PM
Sat, May 9, 2015
Venue:
Catskill Point
The Fortnightly Club of Catskill is hosting its 9th Annual Rip Van Winkle Wine Festival on May 9, 2015 from 12pm until 5pm at the historic Catskill Point on the Hudson River in Catskill, NY. Tickets are $25 for ages 21 and over, $15 for ages 13-20 and free for ages 12 and under.

Hudson Berkshire Wine & Food Festival
11:00 PM to 5:00 PM
Sat, May 23, 2015 - Sun, May 24, 2015
Venue:
Columbia County Fairgrounds

Join us at the 3rd Annual Hudson Berkshire Wine and Food Festival! The event will feature the five beverage trail members plus other regional wineries, distilleries, cideries and craft breweries!