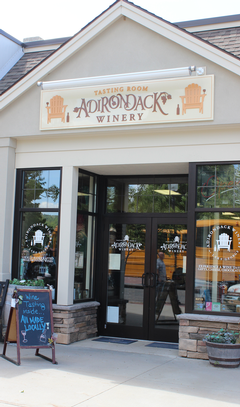 Tasting Room Hours:
We're Open Year Round!
Starting Thu. November 5th
Mon.: 11a - 6p
Tue./Wed.: Closed
Thu.: 11a -6p
Fri./Sat.: 11a - 7p
Sun.: 11a - 5p
November 25th (Day before Thanksgiving): OPEN at 11a
Thanksgiving Day - CLOSED
Christmas Eve (12/24): OPEN 11a - 4p
Christmas Day (12/25): CLOSED
New Year's Eve (12/31): OPEN 11a -6p
New Year's Day (1/1): OPEN 11a -7p
Tasting Room Location Details:
285 Canada Street, Lake George, NY 12845
Latitude: 43.425867 Longitude: -73.71286
Our Tasting Room is located right on the "main drag" (Canada Street/Rte 9) in Lake George. We are on the north end of the strip, just before the corner of Amherst Street, right across from Shepard Park's Amphitheatre. Our row of shops is newer and we are located between Somewhere in Time and Ali Baba's.
Where to Park

Adirondack Winery does not have a parking lot; but ample parking is available on many Lake George Village streets or parking lots; located within easy walking distance to our store from almost any spot. Please note that parking meters are installed on most spots. During the off-season, some parking meters may be turned off (please contact Lake George Village office for more info).