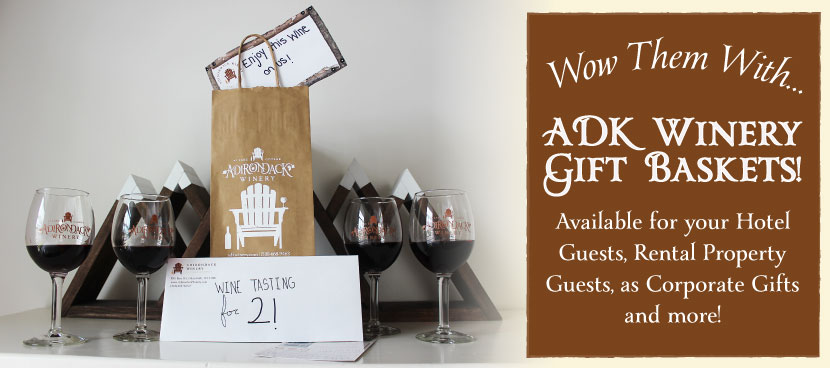 Business to Business Offerings -
Perfect for Realtors and Rental Home Owners!
Adirondack Winery is proud to help local businesses provide their guests and partners with incredible, locally made gifts to make any occasion even more memorable!
We have programs available to a variety of businesses; keep reading to learn more and fill out the form below if you're interested in getting more information!
---

Rental Property Case Club
Stand out from the rest with this new offering that will help you score a five-star rating every time!
Our Rental Property Case Club gets you the wine, food and gifts to WOW your guests - and gets you a whole bunch of savings and perks in the process! You'll even have wine tastings to give away to your visitors, or you can keep them and enjoy them yourself!
Click here to download our Rental Property Case Club packet for pricing and benefits information. And when you're ready, fill out the form at the bottom of this page or click here to email to our Club manager. Great for Realtors looking to congratulate their clients too!

---
Gift Baskets for Hotel / Inn Guests
For years, we have helped local hotels provide their guests with a WOW experience with our locally handcrafted wines and logo gifts!
We also have a huge selection of locally made foods that are sure to satisfy any hungry traveler!
Click here to contact our Tasting Room manager about our Hotel Gift Baskets Program.

---
Corporate Gifts
Our award-winning wines, logo gifts and locally made foods make for impressive gifts for your team or partners!
We offer 30+ fruit-infused and traditional varietal wines, so we have something for every palate! Pricing discounts are available and we would be happy to work with you to help you reach your price point!
Plus, we have dozens of accessories and logo gifts available too! Click the links below to browse our wide variety of products! Then click here or fill out the form below to get in touch with our team!
BROWSE WINES | BROWSE ACCESSORIES

---