Host Your Event With Us!
We offer a completely unique winery curated experience for your private event at our brand-new Queensbury Tasting Room and Winemaking Facility!
"Adirondack Winery is a beautiful venue for a bridal shower. The staff was friendly and helpful from beginning to finish. The charcuterie boards were absolutely delicious. Everyone had such a lovely time and the bride said she couldn't have asked for more." - Tina D.
---
Private Event Space
About the Space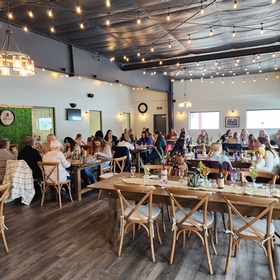 Completed in May 2022, our brand-new headquarters in Queensbury features a 2,226 square-foot upper-level event space! Inspired by Adirondack Winery's modern Adirondack brand, this blank canvas features an elegant industrial rustic motif with oakwood floors, light gray and black colors, beautiful lighting complete with chandeliers and bistro lights! The space boasts an abundance of natural light AND large windows overlooking our state-of-the-art winery production facility, so you can catch a glimpse of our talented winemakers in action!
Our rustic elegant in-house decor includes used wine barrels, antique rustic solid pine farmhouse-style tables with burlap runners, accompanied by pecan wood cross back farmhouse chairs w/ comfortable padded seats, and a picture-perfect feature wall covered with ivy and boasting an Adirondack Winery barrel head! There is the opportunity to utilize this decor or bring in your own.
State-of-the-Art audio visual and technology are also part of this brand-new space! With free wi-fi, ample electric, a sound system capable of playing background music while you speak over a wireless microphone, two televisions ready to play your custom content, and a 120" drop-down projection screen system; you will be able to deliver any content to your guests you wish!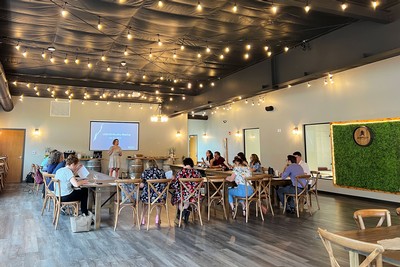 Types of events we will host
Birthday & Anniversary Parties
Bachelorette Parties
Bridal Showers & Baby Showers
Bus Groups
Weddings
Rehearsal Dinners
Family Reunions
Corporate meetings
Networking Functions
Team Building
Company Parties
Conferences
Your vision & more!
Wine & Food
At Adirondack Winery, we believe that wine and food are at the heart of every great party!
Our unique beverage package is guaranteed to be like no other - an experience in and of itself! We will offer a wide selection of wines for your guests to enjoy at your event, with the ability to try many different wines and find your new favorite, or just keep going back for the wine that you love the most! All of this while you overlook our winemaking area!

We believe in supporting our fellow local producers, and also offer a selection of New York beers, spirits and ciders!
Sparkling water, coffee, iced tea, lemonade, soda, and juices also available.
Please note, outside beverage is prohibited.

Our specialty is Charcuterie Boards that will WOW your guests! Nothing goes better with wine than gourmet cheese, bread, crackers, fruit, chocolate and more! We have carefully curated locally produced, gourmet and wine-infused ingredients for our charcuterie boards that will satisfy the taste buds of your guests.

Meat & Cheese Boards, Fruit / Dessert Boards, Brunch Boards, Gluten Free options, and more available.

Caterers, welcome! If you're looking for more food than we provide on-site, we are happy to provide you with our list of approved caterers who understand how to deliver amazing events in our space! Please note, Adirondack Winery does not have a full kitchen, prep kitchen only.

Add-On Experiences
One of Adirondack Winery's core values is to create WOW experiences for our guests every day. We don't want this to be any different for you and your guests! For this reason, we offer some unique add-on experiences available to you as upgrades to your event.
Group Wine Tasting - Lead by our knowledgeable wine concierge(s), your guests will get to try 7 preselected Adirondack Winery wines (sweet / dry options) and take home the souvenir glass used for tasting!
Wine Facility Tours - Get a glimpse of where all the magic happens! Our winemaking facility has over 20 stainless steel tanks that hold up to 4,000 gallons of wine. Learn about the process of making wine, how it's bottles and where we store all that wine!
Live Music - Want to amp up your event? There's no better way to do so than with some good live music! Let us know the vibe you are looking for and we'll book through our friends at 518 Rocks.
Uncork & Craft - Lead by a fun and crafty wine associate, your guests will be lead through creating a wine-related craft, such as decorated wine bottles or glasses, signs, crafts with corks, etc. They will leave with their unique creations and a souvenir wine glass!
*Note: 15% gratuity + 5% service charge + 7% Sales

If you're interested in holding an event at our Queensbury Tasting Room please click here to fill out an interest form and we will follow up soon!

Call 518-668-WINE or email us for more information.
---
Semi-Private Event Space
About the Space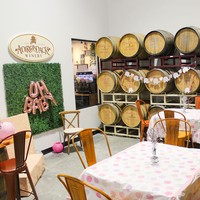 Looking to host a more smaller gathering? Our Semi-Private Event Space also known as "The Barrel Room" is the perfect spot for a party of 11-49 people!
This space is located within the winery itself surrounded by barrels of our wine! Your guests will get to experience what it's like behind that scenes within our winemaking facility and get the full Adirondack Winery feel.

Bar top height tables and chairs are provided but the space acts as a blank canvas so you are able to decoarte however you wish! Plus, there is a picture-perfect feature wall covered with ivy for you and your guests to capture memories of the special occassion.
This is a great space for bachelorette parties, smaller bridal and baby showers, company outings, bus tours, birthday parties and so much more!
---