Build Your Own Adirondack Winery Gift Box
Give the gift of great wine this holiday season with an Adirondack Winery gift set!
Choose 2 bottles of wine and we'll enclose them in this attractive, keepsake wooden gift box with a clasp and handle.
Choose 1 bottle of wine & we'll encase it in this beautiful wooden gift box featuring the Adirondack Winery logo & Lake George outline, handmade by a local wood crafter!
Choose 3 bottles of wine and we'll encase them in our handsome black gift box, which features a sturdy carrying handle and shows off the wines you've chosen inside!

Prices start at $53, depending on wine selections.

Each gift box also includes Adirondack Winery gifts: 2 cork coasters & 1 handcrafted wooden Adirondack chair ornament - more options are available to add if you'd like!

Prices start at $44, depending on wine selections.

You may also choose additional Adirondack Winery accessories to include with your box.

Prices start at $47, depending on wine selections.

We even have pre-selected wine trio options for you to choose from as well!

Build Your Gift Box>>
Build Your Gift Box>>
Build Your Gift Box>>
---
GIFT BOX ORDER & SHIPPING POLICIES:
We are Licensed to Ship Wine ONLY to these states: AZ, CO, DC, FL, GA, IA, ID, IL, IN, KS, LA, MA, MD, ME, MO, MN, NC, ND, NE, NH, NJ, NM, NV, NY, OH, OR, PA, SC, TN, TX, VA, VT, WI, WY and WV
Adult (21+) must sign for package and be present at time of delivery – package may not be left unattended. Please consider this when shipping a gift.
Shipping Cost is $15 per Gift Box to each address. FREE Pickup in Lake George, Bolton Landing or Queensbury is available, just call us to place the order.
Gift Boxes must be ordered separately from a regular wine order.
Separate Orders must be placed for gift boxes being shipped to multiple locations.
If these policies are not followed, shipping charges may not be correct and we will contact you to modify your order.
---
Want to kick your gift box up a notch?
Add a Gift Certificate or special tasting session vouchers>> to your cart so your gift recipient can then shop online or visit our tasting room to get more Adirondack Winery! We'll include these added certificates in a nice envelope with the gift box for an added special surprise!
---
Holiday Shipping Deadlines 2019
For accurate shipping timeline - please place your order before 1pm Eastern Standard Time.

Thanksgiving
Wednesday 11/20 – AZ, ID, CO, GA, ND, NM, NV, OR, SC, WY
Thursday 11/21 – FL, LA, TX, KS, NE
Friday 11/22 – IN, IL, IA, ME, MD, MN, MO, NC, OH, TN, VA, WI, WV
Monday 11/25 – NJ, MA, NH, PA, VT
Tuesday 11/26 – NY
---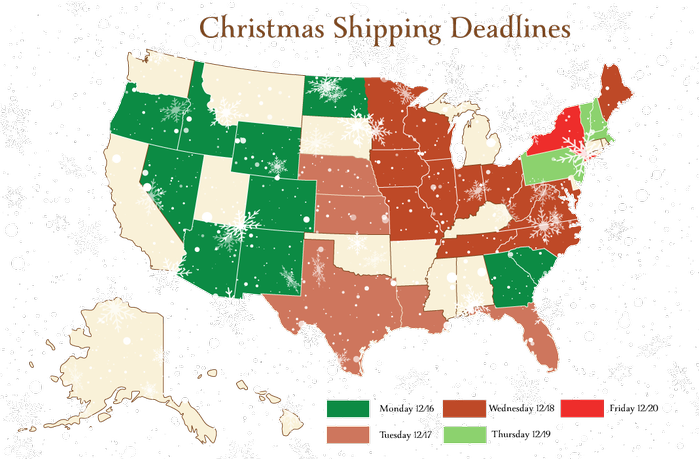 Christmas

Monday 12/16 – AZ, ID, CO, GA, ND, NM, NV, OR, SC, WY
Tuesday 12/17 – FL, LA, TX, KS, NE
Wednesday 12/18 – IN, IL, IA, ME, MD, MN, MO, NC, OH, TN, VA, WI, WV
Thursday 12/19 – NJ, MA, NH, PA, VT
Friday 12/20 – NY
---