---
Adirondack Winery Case Club
Save Money on Wine Every Time You Buy!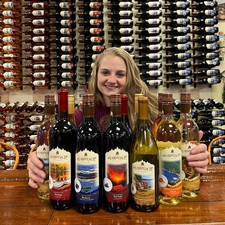 EASY TO JOIN: Buy 1 Case (12btls) at regular discounts and you're automatically enrolled! (Case Club benefits stay active thru 12/31 of the current year)

EASY TO STAY & UPGRADE: After you've become a Case Club Member, all you need to do is buy 12 more bottles during the calendar year to keep your discounts for ALL of next year! Buy 22 more bottles (for a total of 33) during the calendar year, and you'll instantly be upgraded to GOLD status, with even better discounts, freebies and privileges! Learn More about GOLD Club>>

DISCOUNTS GALORE! Case Club Members save up to 15% off wine, and get discounts on retail accessories and specialty foods, event tickets, cocktails, etc - no matter when or where your buy! (must be an active subscriber for discounts to apply, some exclusions apply).

FREEBIES: We love to give gifts to our club members! Your benefits include FREE Tasting Sessions or Glasses of Wine for you and a guest, Free Gifts during our Club Week events, and more!
---
Case Club Membership Benefits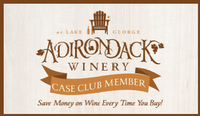 FREE Wine Tastings or FREE Glasses of Wine for you & a guest (limit 1 session per month at one of our locations in Lake George or Queensbury). Click here to book yours!

Case Club Wine Discounts

22 btls: Get 4 more FREE in store / 15% off off online + FREE Shipping
17 btls: Get 3 more FREE in store / 15% off online + FREE shipping
11 btls: Get 2 more FREE in store / 10% off online + FREE Shipping
6 btls: Get 1 more FREE in store / 10% off online + FREE Shipping
3 btls: Save $8 (or Sign Up for MyADK and get 10% off and a 4th bottle FREE) in store/ 10% off online + $9.99 Shipping
1-2 btls: 10% off in store / 10% off online and $25 Shipping
(Not to be combined with other bottle deals unless specified.)

Exclusive Discounts to our ticketed events during our Club Week events at our Tasting Rooms 4x per year. We'll also have scheduled visits with our Owner, Club Manager and Wine Maker, offering Winery Tours and an exclusive expirimental wine or wine cocktail sample just for you!

EVENT TICKET DEALS (per event basis). Enjoy 10% off all of our events at the Tasting Room, as well as tickets to the 2023 Adirondack Wine and Food Festival!
VIP TREATMENT: We roll out the red carpet for our Club Members - literally! Come see us at the Tasting Rooms and we will give you the VIP treatment you deserve!
DIRECT LINE to our Club Manager who you can reach at any time at 518-668-WINE ext. 22 or email club@adirondackwinery.com.
THE FIRST TO KNOW about New, Limited-Edition and soon-to-be Discontinued Wines.
---

---
WINE SHIPPING FAQ's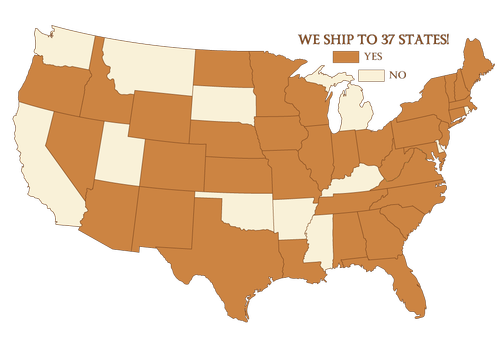 Adult (21+) MUST show photo ID at Delivery!
Ship where recipient spends most of weekdays 9a to 5p - unsuccessful delivery comes at a cost.