Our Most Loyal Customers!
---
---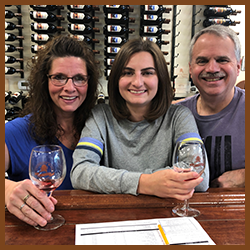 EASY to JOIN: After becoming a Case Club Member, just buy another 2 cases (24 btls) within a calendar year! (36 btls total).

EASY TO STAY: Just buy 3 Cases (36btls) using your discounts each calendar year... that will ensure your GOLD Benefits stay active year after year!

EASY TO ENJOY: We treat our GOLD Club Members like GOLD! We include lots of discounts, deals and freebies with your membership. We hope you use them to visit us often - whether in Lake George or by shopping online!

---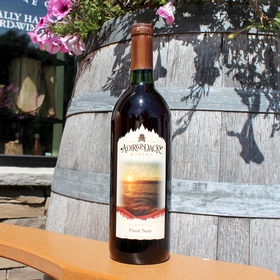 * FREE Gift of the Month: Pinot Noir
Gold Club Members: Order 6 or more bottles of wine this month and you'll get a FREE bottle of our award-winning Pinot Noir!
This semi-sweet white wine is one of our best sellers - and it's label will have you daydreaming about your favorite place to visit - Lake George!
Not a fruity wine drinker? Give it as a gift this holiday season to a friend who loves wine or Lake George too!
Not seeing your free bottle add to your cart? Just give us a call at 518-668-WINE and we'll gladly help you!
Limit one free bottle per Club Membership per month.
---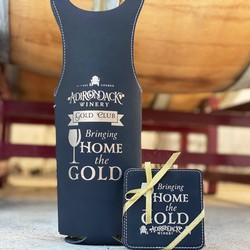 * FREE Gold Club 72+ Bottle Gift: Limited-Edition Leather Wine Tote & Set of Coasters *
Gold Club Members: you will recieve this beautiful limited-edition leather wine tote and set of four leather coasters when you reach 72+ bottles by the end of the year!
Purchase 6+ bottles of wine before the end of the year and receive this gift in your box when your order gets you to, or exceeds, the 72+ bottle requirement. This gift is available with online orders and available for pick-up at Big Bay. Not available for pick-up at Lake George or Bolton Landing!
Both items feature our Adirondack Winery logo and the saying "Bringing Home the Gold" to honor our most loyal and supportive customers! The amazing quality of these items is something you can both see and feel - they are second to none!
Log in to your account or call us at (518)-668-WINE to find out your current bottle count and how many more you would need to purchase to earn this gorgeous gift.
Limit one free gift per Gold Member. Gold Club Members with qualifying orders will automatically be sent a leather wine tote and set of coasters with their wine order. Qualifying customers who have not purchased by Dec. 4th will have their gift shipped to them.
*IF YOU HAVE NOT RECEIVED YOURS AND HAVE MET THE 72+ BOTTLE CRITERIA, send us an email at ilovewine@adirondackwinery.com
---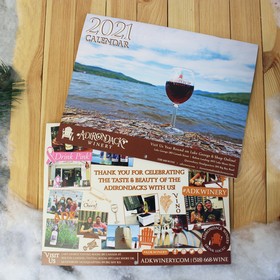 * FREE Gold Club Renewal Gift: 2021 Adirondack Winery Wall Calendar
Would you love to bring the sights of the Adirondacks home with you? Gold Club Members will receive this beautiful 2021 wall calendar for FREE when they renew their membership with us for 2021!
To renew your Gold Club membership, you must reach 36 bottles by the end of the month by placing an order online or in-store! All members can inquire about their current bottle count by calling Adirondack Winery at (518) 668-WINE and speaking to an associate.
The calendar will automatically add to your cart at checkout once you have reached your 36 bottles. Customers who do not order by the end of the month will receive their calendars in the mail early January!
Each month has a brand new breathtaking view of the Adirondacks and Lake George for you to enjoy from the comfort of your own home, and you'll never miss an ADK Winery event. To get a sneak peek of the calendar and maybe order an extra or two for someone on your shopping list, go to adkwinery.com/calendar today!
---
GOLD Club Membership Benefits
FREE Wine Tastings for you & 3 guests (limit 1 session per month at one of our locations in Lake George, Bolton Landing or Queensbury). Wine tastings are currently on pause for a few weeks starting Jan. 4th. Thank you for understanding.

Club Discounts Now Available In Store & Online!

25% OFF 11+btls + FREE Shipping
15% OFF 6-10 btls + FREE Shipping
10% OFF 1-5 btls + $15 Shipping
(Cannot be combined with other bottle deals. For a limited time only.)

10% OFF wine accessories and food items!

FREE ULTIMATE Wine Tastings for 2 During our Club Member Weekends 4x per year!
EXCLUSIVE DISCOUNTS sent just to Club Members during our Club Weekends!
FREE BOTTLE of our Featured Wine of the Month EVERY month w/ purchase!* (Purchase requirements subject to change.)
ACCESS to our Gold Club Member Facebook Page - share your photos w/ us and others who love our wine!
SPECIAL FREE GIFT for customers who buy 72+ bottles per year!
VIP TREATMENT: We roll out the red carpet for our Club Members - literally! Come see us at the Tasting Rooms and we will give you the VIP treatment you deserve!
THE FIRST TO KNOW about New, Limited-Edition and soon-to-be Discontinued Wines!
CLUB MEMBER NEWSLETTERS w/ ADK Winery news, recipes, pairing guides, events & more!
---
WINE SHIPPING FAQ's
Adult (21+) MUST show photo ID at Delivery!
Ship where recipient spends most of weekdays 9a to 5p - unsuccessful delivery comes at a cost.