GOLD Club
Buy your Favorite Wines at your Leisure while Enjoying our Absolute BEST Discounts & Privileges!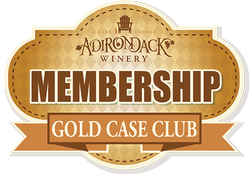 EASY to JOIN: Once you've become a Case Club Member, if you buy 2 more cases (24btls) in the Calendar year, we'll upgrade you to GOLD Member Status

EASY TO STAY: Just buy 3 Cases (36btls) using your discounts each calendar year... that will ensure your GOLD Benefits stay active year after year!

EASY TO ENJOY: We treat our GOLD Club Members like GOLD! We throw in loads of discounts, deals and freebies with your membership. We hope you use them to visit us often - whether in Lake George or by shopping online!

---
GOLD Club Membership Benefits*
---
* FREE Gold Club April Gift:
Gold Club members: We're trying something new with our free monthly calendar gift! This month, you'll get a FREE bottle of Gewurztraminer when you order 6+ bottles in store or 5+ bottles online! Plus, the bottle counts toward 6- and 12-bottle shipping deals ($5 flat fee and FREE shipping, respectively) so use it to help you order your 1/2 case or full case and save EVEN MORE! No promo code necessary. Bottle will automatically be added to cart at checkout for Gold Club Members ONLY.
GOLD Club Membership Benefits
FREE Wine Tastings for you & 3 guests (limit 1 session per month at each of our locations in Lake George, Bolton Landing and Queensbury), plus extra freebies for gold members!

Online Wine Discounts:

FREE Shipping + 15% OFF 12+btls
$5 Shipping + 5% OFF 6+btls
$12 Shipping + 10% OFF 1-5 btls

In-Store Wine Discounts:

25% OFF 12+btls
15% off 6+ btls
10% off 1-5 btls

Exclusive GOLD Member Event Ticket Deals & VIP Seating - per event basis (Our annual Anniversary Party in April Cannot be missed!)
Four (4) Club Member events at the Tasting Room per year Including: FREE Premium Tastings, FREE Bottle of Wine, Surprise Giveaways & More!
FREE Adirondack Winery Wall Calendar featuring gorgeous Adirondack photography and full of Lake George region events! (while supplies last)
Featured Monthly GOLD Member Freebies with purchase.
We want you to Visit! $2 Parking Credit on your receipt when you visit the Lake George Tasting Room May 15 through Oct 15!
Valued Club Member Treatment: We do our BEST to make time & space for you at the Tasting Room when you use your club perks. ONLY Gold Club Members can make Reservations! Exclusive Club Member Phone Extension.
You'll be the first to know about New, Limited Edition and Soon-to-be discontinued wines!
We work with other local business to get GOLD Club Members reciprocal discounts!
Club Member Newsletters w/ Winery News, Upcoming Events, Recipes & More!
---
WINE SHIPPING FAQ's
Adult (21+) MUST show photo ID at Delivery!
Ship where recipient spends most of weekdays 9a to 5p - unsuccessful delivery comes at a cost.