Thirsy Thursday Trivia
Join us at our Queensbury Tasting Room the first Thursday of every month for trivia night! Win amazing prizes from a free cocktail to a free bottle of wine for every member of your team! Check out the full schedule below.
June 2023
F.R.I.E.N.D.S Themed Trivia Night
6:00 PM to 8:00 PM
Thu, Jun 8, 2023
Venue:
Adirondack Winery Queensbury Tasting Room
Contact:
ilovewine@adirondackwinery.com 518-668-9463,
ilovewine@adirondackwinery.com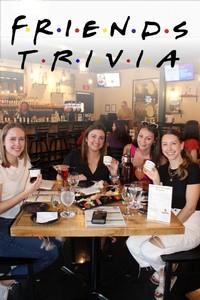 What better way to celebrate National Best Friends Day than by bringing your bestie to our F.R.I.E.N.D.S. trivia night! Show up matching with your BFF and we'll treat you both to a sample of any of our wine cocktails that are featured on our Spring Cocktail Flight! Feast on our elaborate charcuterie boards and sip our unique cocktails. We'll give away FREE bottles of wine to the winning team and more!

Hosted by That Trivia Guy (total Trivia Professionals!), this is a general knowledge team trivia format consisting of 20 fun questions, including a music round, Price Is Right question, a Fast Four round, a picture round, and a Jeopardy-style final wager/question!

Your reservation fee will be used towards any drinks you order and will be shown as a credit on your final bill ($15 per person).

While we do accept walk-ins without this cover charge, reservations are required to ensure you will have a seat. Make sure to buy tickets with the people you want to sit with, as we do assign seats in advance! Don't worry there's not a bad seat in the house!

We've got some amazing prizes each week for this game including:

• Winning Team walks away with 1 bottle of wine per person (up to 4 ppl, $20 or less value wine)
• We're even giving away prizes to the leading team at halftime!

Answering is easy with this lively game, as it all takes place on an app on your phone! The game typically takes about 2 hours.