Rosemary Olive Oil Bread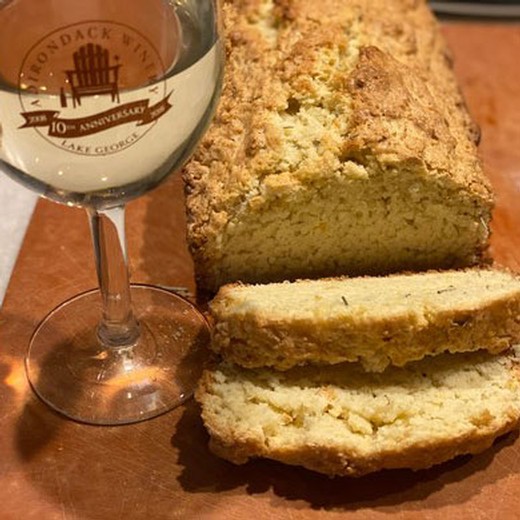 Recipe Date:
March 25, 2020
Measurements:
Imperial (US)
This Rosemary Olive Oil Bread is made with a dry, white wine. So we decided to try it with our Pinot Gris and it is better than we ever imagined! Try this as soon as it comes out of the oven with a little bit of butter and your tastebuds will melt!
Ingredients
2 1/2 cups All-purpose flour
3/4 cup Sugar
1/2 cup Walnuts (optional)
2 tsps baking powder
2 tsps Rosemary
1/4 tsp Salt
1 tbsp Lemon zest
2 Eggs
3/4 cup Adirondack Winery Pinot Gris
1/2 cup Olive Oil
Directions
Heat oven to 350 degrees Fahrenheit.
Lightly coat a loaf pan with vegetable cooking spray.
Stir together flour, sugar, walnuts, baking powder, rosemary, salt and lemon zest in bowl.
In a separate bowl, mix eggs, wine, and olive oil, then stir into dry ingredients.
Transfer the batter into pan and smooth the surface.
Bake 55 minutes or until a toothpick inserted into the center comes out clean.
Get your Adirondack Winery Pinot Gris here! Now offering FREE shipping on 6+ bottles! Enjoy!