Chocolate Cherry Brownies with Wild Red Glaze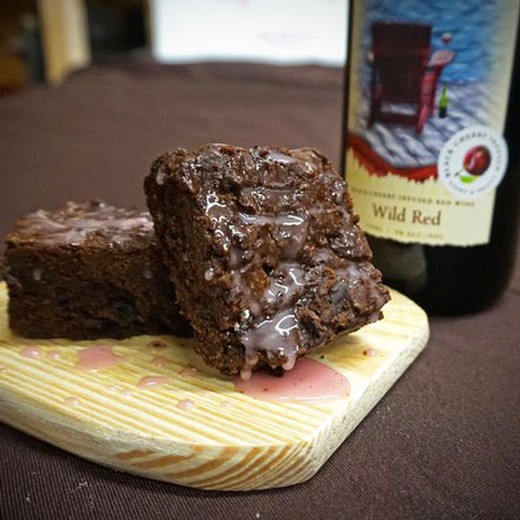 Recipe Date:
August 3, 2016
Measurements:
Imperial (US)
Ingredients
1/2 cup Adirondack Winery Wild Red plus 2 tbsp, divided
1 box Brownie Mix
1 cup All Purpose Flour
1/4 cup Cocoa Powder
2 Large Eggs
1 stick Butter
1 1/2 cups Semi-Sweet Chocolate Chunks, divided
1/2 cup Powdered Sugar
Directions
Recipe courtesy of Jennalee Bramer
Preheat oven to 350. Lightly grease bottom & sides of an 8x8 pan.
Place brownie mix, flour & cocoa powder into a large mixing bowl. Mix well, set aside.
Cut butter into small pieces, place into microwave safe bowl with ¼ cup of chocolate chunks. Heat in microwave for 1-2 minutes, stirring every 30 seconds to keep from burning. When fully melted, whisk in 2 eggs, then ½ cup Wild Red
Add butter & egg mixture to brownie mix, stir till moistened. Add remaining chocolate chunks, stir well.
Spread batter into pan, filling corners and leveling top.
Bake 25-30 minutes. Cool 30 minutes before cutting.
To make Glaze: Place ½ cup powdered sugar into a bowl. Slowly add Wild Red 1 tablespoon at a time, stirring well, until glaze has reached desired consistency. Drizzle over Brownie. Enjoy!