13th Anniversary Weekend at the Tasting Rooms
| | |
| --- | --- |
| Date: | Fri, Apr 16, 2021 - Sun, Apr 18, 2021 |
| Time | 11:00 AM to 6:00 PM |
| Venue: | Lake George & Bolton Landing Tasting Rooms |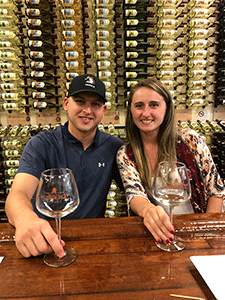 Cheers to the Years! Adirondack Winery has been open for 13 years!
Join us in celebrating Adirondack Winery's 13th Anniversary from Friday, April 16 to Sunday, April 18 at the Lake George and Bolton Landing Tasting Rooms! Yes, Bolton is back in time for anniversary!
We're switching up our traditional Locavore Sampler and Cheese Lovers Samplers and offering versions with more wine infused items. The plates will include:
Locavore Sampler: Champagne cheddar, lavender honey chevre, wine infused marshmallow, wine jelly, wine crackers, and white chocolate champagne truffle
Cheese Lover's Plate: Champagne cheddar, lavender honey chevre, cheese crackle, wine infused crackers, and wine infused popcorn
Add a Locavore or Cheese Lovers Sampler when you book a tasting for Anniversary Weekend and you'll get our special wine-infused offerings when you arrive! (Gluten Sensitive Sampler also now available! Click here to view our samplers).
Our wine cocktail for Anniversary Weekend will be our Lavender Infused Serenity Iced Tea! This refreshing wine cocktail is made with our lavender infused Serenity which is being released to the public on April 14th! Be sure to give Serenity a taste when you stop by for the anniversary celebration. All Club Members who bring in an Adirondack Winery wine glass receive a FREE wine cocktail!
All Club Members who shop with us during Anniversary Weekend receive 20% off all accessories…an increase from the typical 10% discount! We're also giving away a Winemaker's Dozen case (13 bottles for 13 years) and all you need to do is take a photo of a wine glass with an Adirondack Winery logo. Either share the photo on social media and tag us, message us the photo on social media, or email the photo to ilovewine@adirondackwinery.com. If you submit a photo with one of our old logos then you will be treated to an extra entry! Bring your old wine glasses to the tasting room during Anniversary Weekend to show us how long you've been a loyal customer!
Anyone looking to stock up on wine during Anniversary Weekend will also get an added bonus! Buy 12 bottles of wine in our tasting rooms or online and you'll get a 13th bottle free!
Go to adkwinery.com/book today to guarantee your spot for Anniversary Weekend! Space is limited and spots will fill up so we recommend booking in advance!
Follow our socials to stay up to date on all things ADK!
Facebook | Instagram | Twitter