American Chocolate Week
| | |
| --- | --- |
| Date: | Mon, Mar 22, 2021 - Sun, Mar 28, 2021 |
| Venue: | Adirondack Winery |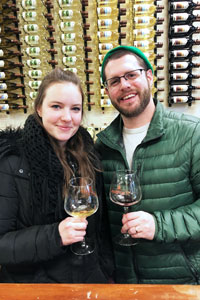 Chocolate and Wine make the perfect pair!
We love to celebrate American Chocolate Week & we know that you will too when you visit Adirondack Winery! Schedule your next trip to Lake George and come discover a new love for wine and chocolates!
We will be offering a Chocolate Lovers Locavore Plate to add to your wine tasting, featuring a Birnn milk chocolate caramel truffle and white chocolate champagne truffle, Nettle Meadow Cherry Chocolate Schroon Moon soft cheese, a Janis & Melanie Cabernet wine biscuit and Life's Grape dark chocolate dipped vine dried raisins! You won't believe how delicious it is - a chocolate lovers dream plate! AND you can add a wine-infused hot chocolate to your tasting in place of our usual warm wine cocktail!
Plus, while you're visiting you can enjoy 10% off all chocolate items when you shop in-store.
You can also opt-in to our text messages for fast and easy Winery news. We have some new releases this week that you won't want to miss.
Follow our socials to stay up to date on all things ADK!