Barrel Aged Bourbon and Cab Night with our Winemaker & Distiller
| | |
| --- | --- |
| Date: | Fri, Dec 2, 2022 |
| Time | 5:00 PM to 8:00 PM |
| Venue: | Queensbury Tasting Room |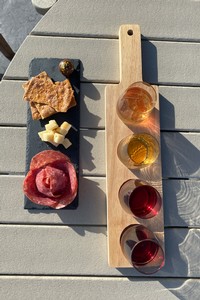 FREE event! Blend the worlds of bourbon and wine with Adirondack Winery's Bourbon and Wine Pairing Night! In honor of the release of our Bourbon Barrel Aged Cabernet Sauvignon, we're teaming up with American Oak Distilling to take you into the world of bourbon and wine.
David Smith, owner of American Oak Distilling, and Brad Casacci, our very own Winemaker, will both be at our Queensbury Tasting Room from 5-8pm to talk to you about how our Bourbon Aged Cabernet Sauvignon was made and what makes it stand out from our other wines. They'll be serving free samples of the Bourbon Barrel Aged Cab Sauv and offering free tours of the Winemaking Facility.
To get the full experience, add on a custom flight with our regular Cabernet Sauvignon, the brand-new Bourbon Barrel Aged Cabernet Sauvignon, American Oak Distilling Double Barrel Bourbon, and a New York Cab Sour cocktail. You can also add a food sampler for just $10 with items perfectly paired with the flight to help you bring out the flavors in the bourbon and wine.
You can reserve your spot, but it is not needed! Additional food items and cocktails are available for purchase.
Follow our socials to stay up to date on all things ADK!