Red Hot Zumba at the Winery
| | |
| --- | --- |
| Date: | Sun, Feb 12, 2023 |
| Time | 10:00 AM to 11:00 AM |
| Venue: | Queensbury Tasting Room Private Event Space |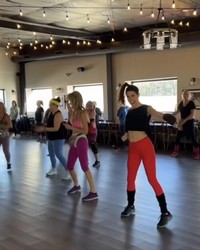 Jennifer Islas is excited to bring Zumba®️ Fitness classes to Adirondack Winery! February will have "Red Hot" Zumba. Grab your Galentines and wear your best red attire!
Anyone who wears any red or Valentine-themed gear will get a FREE red mimosa (cranberry) to enjoy!
Zumba is a fitness program that combines Latin and international music with dance moves. Routines incorporate interval training — alternating fast and slow rhythms to help improve cardiovascular fitness.
Jennifer has been teaching Zumba classes for over 13 years. She incorporates many musical genres in her classes, including Merengue, Salsa, Rock n Roll, Pop Hits, Caribbean Soca, Jamaican Dancehall, Disco, Cha-Cha, Bhangra, and Bellydance.
She welcomes participants of all levels to come try a class! The class is held in the private event space at Adirondack Winery's Queensbury Tasting Room. Add on the Brunch Experience to enjoy a brunch board and mimosas or Bloody Marys immediately following the class.
Add the Brunch Experience when booking and you'll save $5!
Tickets for Zumba are available here.
Follow our socials to stay up to date on all things ADK!