My ADK Pickup Party
| | |
| --- | --- |
| Date: | Sat, Feb 4, 2023 |
| Time | 2:00 PM to 6:00 PM |
| Venue: | Adirondack Winery Queensbury Tasting Room |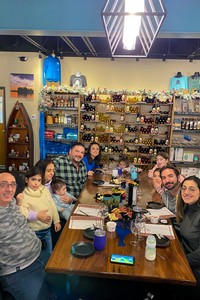 Calling all My ADK Subscribers! Get 10% off all on-premise food and drinks and enjoy a glass of wine for you AND a friend! If you choose to pick up your wines at our Queensbury Tasting Room instead of having them shipped to you, not only do you get a free wine tasting, but you also get to take part in a fun night with fellow My ADK Subscribers!
The first Saturday of every month from 2-6pm, My ADK Subscribers who come to Queensbury to pick up their wines get 10% off all on-premises food and drink as well as a wine tasting or glass of wine for FREE as well as a glass of wine for a friend! Live music will be going on at the same time, so you can relax at the Tasting Room and listen to some music while you enjoy your discounted food and drink! Just mention that you're there for the My ADK Pickup Party and our associates will take good care of you. If you want to reserve your free tasting during the pickup party, just call 518-668-WINE or email club@adirondackwinery.com!
Follow our socials to stay up to date on all things ADK!