Wine Wisdom With Eldon
| | |
| --- | --- |
| Date: | Fri, Aug 12, 2022 |
| Time | 6:30 PM to 8:00 PM |
| Venue: | Queensbury Tasting Room |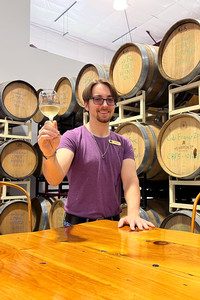 At Adirondack Winery, we specialize in transforming wine learners into wine lovers! Learn how to maximize your enjoyment of wine by using all five of your senses to discover the many unique nuances that different wine varietals can offer. You will take a deep dive into the Six Ss of wine tasting with us - See, Swirl, Smell, Sip, Swish, and Savor.
You will be welcomed with a 2 oz. pour of one of our featured sparkling wines, followed up by a tasting of 7 different wines, with a final pour of premium wine. You will also enjoy a selection of gourmet charcuterie-inspired snacks, carefully selected to accompany the wines you will try. The class is led by Eldon, one of our most popular wine concierges! Eldon will provide a fun and entertaining class that is perfect for date night or a night out with friends. You will leave with reference materials to share your newfound knowledge at home and a souvenir premium Adirondack Winery glass! The class is held at our Queensbury Tasting Room.
You will be served approx. 10oz of wine during this class, both sweet and dry wine options are provided for each tasting selection.
*Before your class, you are welcome to enjoy our bar or outdoor patio for wine, cocktails, food, and more!
Click here to book your experience!
Can't make it to Queensbury? Chat with our Sommeliers at our Lake George Tasting Room every Friday! They'll be sharing their wine knowledge with you, and you'll even leave with a packet of wine wisdom.
Follow our socials to stay up to date on all things ADK!