Amethyst Sunset Blackberry Shortcake w/ Soaring Strawberry Whipped Cream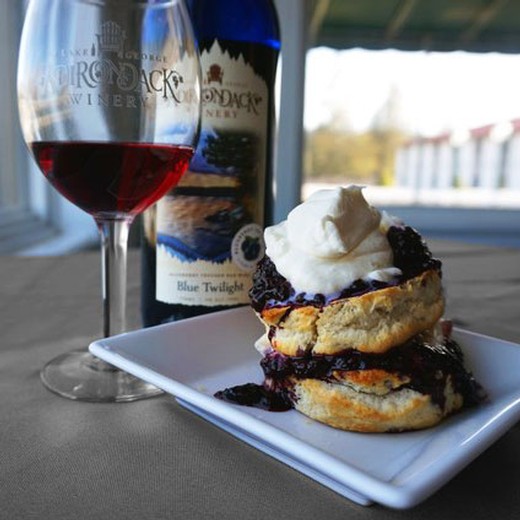 Recipe Date:
June 13, 2016
Measurements:
Imperial (US)
This dessert from our 8th Anniversary Wine Dinner definitely left a lasting impact! This ultimate Adirondack Winery dessert is easier than it looks and uses both Amethyst Sunset and Soaring Strawberry!
Ingredients
1 1/2 lbs Fresh Blackberries
5 tbsps Sugar
1 1/2 cups Heavy Cream
3 cups Amethyst Sunset (blackberry infused red wine)
3 cups Soaring Strawberry (strawberry infused white wine)
1 Biscuit
Directions
In a medium pan, add fresh blackberries, sugar, Amethyst Sunset. Reduce to thicken and let cool.
In a separate medium pan, add 3 cups of Soaring Strawberry. Reduce down and add sugar.
Add heavy cream and Soaring Strawberry reduction in a blender and mix.
Cut biscuit in half and plate. Add whipped cream and top with the blackberry reduction.
ENJOY!