Apple Cider Doughnuts with Maple-Apple Glaze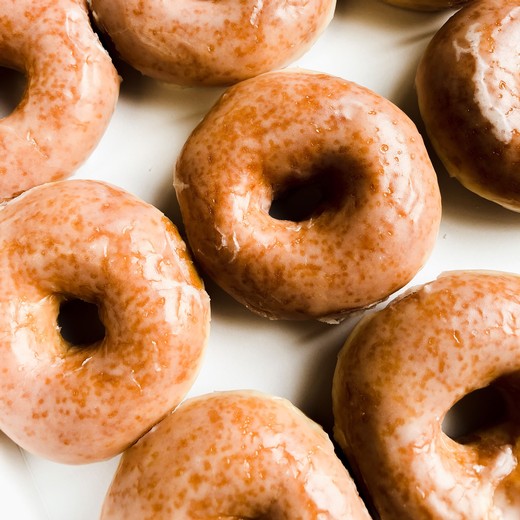 Recipe Date:
February 3, 2021
Measurements:
Imperial (US)
Our Orchard Blossom is the signature ingredient in these delicious apple cider doughnuts! You will love the beautiful balance of cinnamon, apple, spice and maple that you might just make them year round!
Ingredients
1 1/2 cups Apple cider
2 cups All-purpose flour
1 tsp Baking soda
3/4 tsp Baking powder
1 tsp Ground cinnamon
1 tsp Apple pie spice (or a mix of cardamom, cinnamon, and nutmeg)
1/4 tsp Salt
2 tbsps Unsalted butter, melted
1 Large egg
1/2 cup Light or dark brown sugar
1/2 cup Granulated sugar
1/2 cup Milk (any milk will work)
1 tsp Pure vanilla extract
1 cup Confectioners' sugar
3 tbsps 100% maple syrup
1 1/2 tbsps Orchard Blossom wine
Directions
1. Pour apple cider into a small saucepan and reduce over low heat, stirring occasionally, until you're left with roughly 1/2 cup (start checking after 10 minutes, then in 5-minute increments.) Once reduced, remove from heat and set aside to cool for 10 minutes.
2. Preheat over to 350ºF. Spray a donut pan with nonstick spray and set aside.
3. In a large mixing bowl, whisk together flour, baking soda, baking powder, cinnamon, apple pie spice and salt. Set aside
4. In another large mixing bowl, whisk together melted butter, egg, brown sugar, granulated sugar, milk and vanilla extract together. Pour the two mictures together and add in the cooled, reduced apple cider. Whisk together until smooth.
5. Spoon the batter into the donut pan. Fill each cavity about halfway
6. Bake donuts for 10-11 minutes, or until the edges and tops have lightly browned. (Poke the top of a donut with your finger. If it bounces back then it's done!) Cool donuts in the pan for 2 minutes and then transfer to a wire rack to cool further.
7. As donuts cool, whisk confectioners' sugar, maple syrup, Orchard Blossom wine, and 1/2 tbsp milk in a medium mixing bowl until smooth. Dip the tops of cooled donuts in the glaze.
*These donuts are best when served immediately but can also be stored well-covered at room temperature for two days, or in the fridge for 5 days.