Blackberry Sage Iced Tea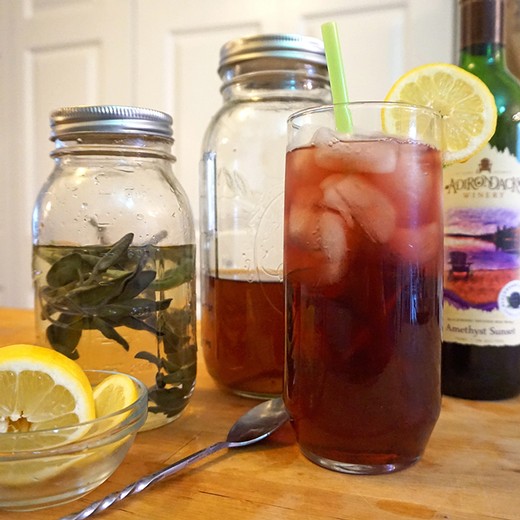 Recipe Date:
June 12, 2017
Measurements:
Imperial (US)
Ingredients
Amethyst Sunset
Fresh Brewed Black Tea
Sage infused Simple Syrup
Lemon
Directions
Fill a tall glass with ice. Drizzle 1 tsp sage simple syrup over the ice.
Pour in two parts iced tea to one part Amethyst Sunset (blackberry infused).
Stir gently, garnish with a lemon wheel and enjoy!
For the Iced Tea
Any strong, unflavored tea will work — we love this recipe with fresh-brewed green tea too — so have fun an experiment to find your favorite. However, we think brewing your tea fresh and cooling it in the refrigerator tastes best in this cocktail.
For the Simple Syrup
Heat 1/2 cup sugar, 1/2 cup water and a few sprigs of sage over medium heat for a few minutes until sugar is completely dissolved. Remove from heat and let cool to room temperature. The simple syrup can be covered and refrigerated for up to one month.