Wine Jelly Pinwheels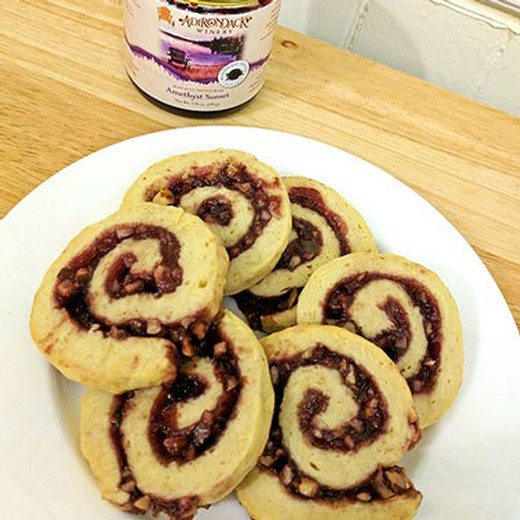 Recipe Date:
December 4, 2016
Measurements:
Imperial (US)
Festive pinwheel cookies made with Amethyst Sunset jelly from Suprenant's Berry Farm!
Ingredients
1/2 cup Butter (softened)
1 cup Sugar
1 Large Egg
1 tsp Vanilla Extract
2 cups All-Purpose Flour
1 tsp Baking Powder
3/4 tbsp Chopped Walnuts
1 Jar Adk Winery Wine Jelly (we used Amethyst Sunset in this recipe, but any of our flavors would work well!)
Directions
In a large bowl, cream butter and sugar until fluffy. Beat in egg and vanilla.
Whisk flour and baking powder in another bowl. Gradually beat into creamed mixture.
Roll dough into a 12-inch square between two sheets of waxed paper. Trim edges and continue to roll until square is approximately 1/4 inch thick.
Remove wax paper. Spread Amethyst Sunset Jelly across flattened dough. Sprinkle with walnuts.
Roll up tightly and wrap in plastic. Leave a little extra room at the end and pinch dough closed.
Refrigerate until firm (about 2 hours).
Preheat oven to 375 degrees. Unwrap dough and cut into 1/4 inch slices. Place on ungreased baking sheet (about 2 inches apart).
Bake 9-12 minutes, or until edges are lightly brown.
Cool on wire rack and enjoy!
Tip: Make the roll ahead of time and keep it in the refrigerator or freezer until it's time to bake!
Recipe adapted from tasteofhome.com