Braised Chicken Thighs with Herbs and Gewurztraminer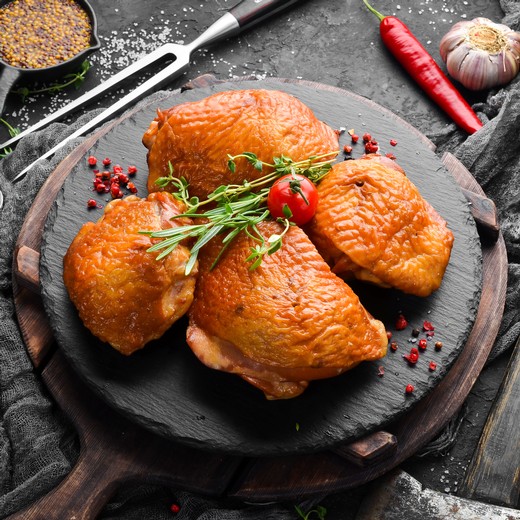 Recipe Date:
January 12, 2015
Measurements:
Imperial (US)
Ingredients
1 oz Extra Virgin Olive Oil
1 1/2 ozs Margarine
2 3/4 lbs Boneless, Skinless Chicken Thighs
2 tsps Salt
1 tsp Black Pepper
2 Cloves Garlic, Sliced & Peeled
1 1/2 cups Gewurztraminer (can be substituted with Pinot Grigio)
1 cup Chicken Stock
2 tbsps Fresh Rosemary, Chopped
2 tbsps Fresh Thyme, Chopped
1 tbsp Fresh Sage, Chopped
2 ozs Heavy Cream
1 1/4 tbsps Fresh Parsley, Chopped
Directions
1. Melt butter in oil and braise chicken to brown.
2. Remove chicken from pan and reserve.
3. Add herbs and spiced.
4. Deglaze with wine and finish with cream.
5. Add chicked and bake in oven for 15-20 minutes at 350 degrees F.
6. Garnish with parsley.
*Recipe courtesy of Rainer's Gourmet Catering adapted from simply-delicious-food.com recipe for Chicken baked with white wine, garlic and herbs.