Cabernet Sauvignon Infused Chocolate Cupcakes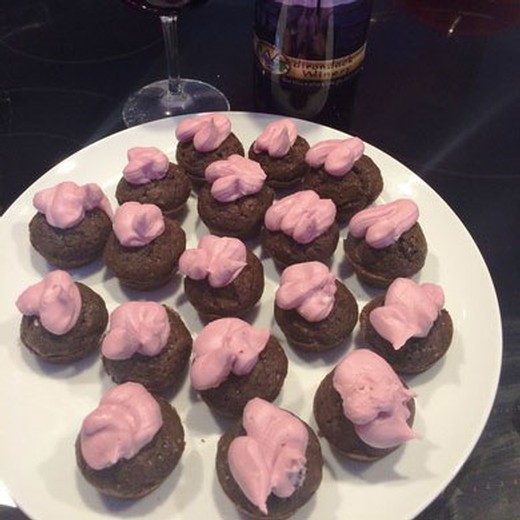 Recipe Date:
December 10, 2014
Measurements:
Imperial (US)
Ingredients
1/2 cup All-purpose flour
1/2 cup Whole wheat flour
1/4 cup Unsweetened coca powder, plus 2 Tbsp
3/4 tsp Baking soda
1/4 tsp Salt
1 Stick Unsalted butter, softened
1/3 cup Turbinado sugar
4 Packets Stevia
1 Large egg
1/2 tsp Pure vanilla extract
3/4 cup Cabernet Sauvignon *For a sweeter taste, substitute with Wild Red
Directions
Preheat oven to 350 degrees F and line a muffin tin with liners or parchment cups.
In a bowl, whisk the flour, cocoa powder, baking soda, and salt.
In a large bowl, using a handheld electric mixer beat the butter with the sugar at medium-high speed until fluffy. Add the egg and beat until incorporated. Then add the vanilla and beat for approx 2 additional minutes.
Alternately fold in the dry ingredients and the wine until just incorporated.
Pour the batter into the cups and bake for 15 minutes, or until a toothpick inserted in the center comes out clean. Let the cupcakes cool completely.
Use the following recipe to add the Red Wine Buttercream Frosting to your cupcakes!
1/3 cup Red wine
1 Tbsp Granulated sugar
6 Tbsp Unsalted Butter softened
1-1.5 cups Confectioner's sugar
1. Place red wine and sugar in a small saucepan and cook over medium heat while stirring constantly until the sugar is all dissolved. Bring to a boil and then simmer until the syrup is reduced to about 3 Tbsp. Stir sometimes, but not constantly. Place the syrup in the refrigerator to cool completely.
2. Whisk the butter while adding confectioner's sugar 1/4 cup at a time. Cream together to form a frosting. Once a nice consistency is reached (almost all of the required confectioner's sugar is in) add the wine reduction and continue beating. Add 1/2 Tbsp of red wine and the remainder of the confectioner's sugar until the desired consistency is reached.
*Recipe adapted from SensualAppealBlog.com recipe for Chocolate Red Wine Cupcakes.