Citrus Mulled Chardonnay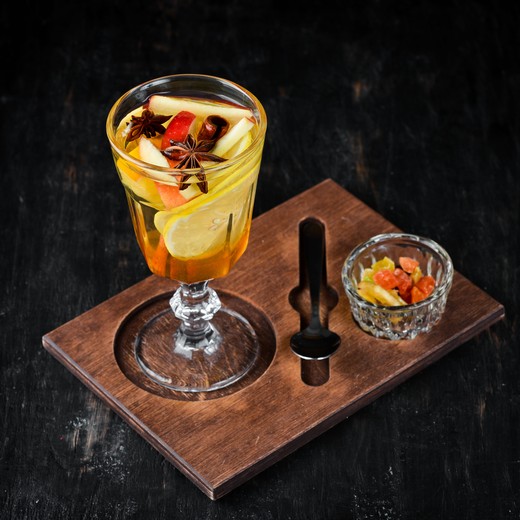 Recipe Date:
March 1, 2016
Measurements:
Imperial (US)
Ingredients
1 Bottle of Chardonnay
1 Orange, sliced (plus extra for garnish)
1 cup Water
1/2 cup Honey
1 1" piece of fresh Ginger (peeled and sliced thin)
3 Whole sticks of Cinnamon
6 Whole Cloves
1/2 cup Cranberries (optional)
Directions
Stovetop:
1. Combine the fruit, water, honey, ginger, cinnamon and cloves in a saucepan and simmer over medium heat for 10 minutes Stir gently to dissolve the honey.
2. Remove the saucepan from the heat and add the Chardonnay to the spice and fruit mixture. Cover the pan and allow the wine to mull for half an hour.
3. Strain the mulled wine through a mesh strainer to remove the cooked fruit and spices.
4. Stir and ladle your hot mulled wine into mugs or wine glasses. Garnish with a cinnamon stick and a slice of orange and serve!
Crockpot:
1. Combine all ingredients in a crockpot and heat on low for 2 hours or 1 hour on high.
2. When ready to serve, ladle into mugs, garnish with fruit and a cinnamon stick.
* Not ready to serve? Your mulled wine can also be refrigerated overnight! Before serving, reheat the mulled wine at a low simmer on the stove or in a slow cooker. If you want a stronger flavor, throw in a few more cinnamon sticks, cloves, and another piece of ginger while you reheat. Be sure not to cook the wine too long or too hot, but you may keep it warm to serve throughout the evening.
This recipe was adapted from "Cranberry Citrus Mulled Chardonnay" on www.WineMakingTalk.com by Theresa Sinclair.