Fresh Mango Salsa with Lake Winds White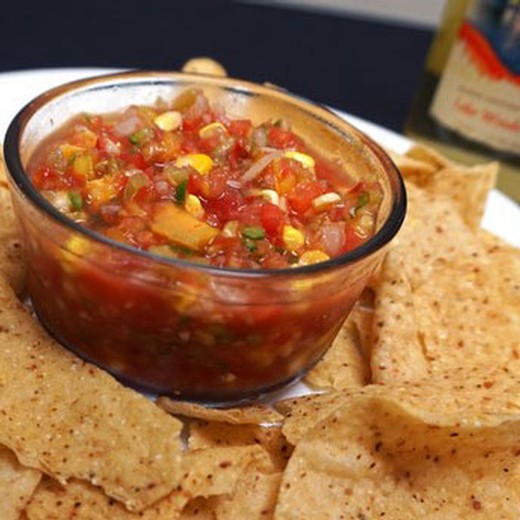 Recipe Date:
September 1, 2016
Measurements:
Imperial (US)
This fresh salsa is delicious with tortilla chips, but also goes great with any grilled meats or seafood- try it with grilled shrimp, chicken, pork chops or even baked fish!
Ingredients
1 pint Fresh Roma Tomatoes (about 8)
2 Mangos
8 Fresh Mild Peppers (Cubanelle or Hungarian Wax)
1 Large Onion
4 peaches
2 Limes (juiced)
2 ears Corn on the Cob
1/4 cup Vinegar
1/2 cup Lake Winds White (to taste)
1 tsp Salt
1 tsp Cayenne
1 tsp Cumin
Directions
Prep Fruits & Veggies:
Chop ends off of tomatoes, quarter, and set aside.
Peel and pit mango. How to cut a mango
Peel and Pit Peaches. How to cut peaches
Remove seeds from peppers.
Peel and quarter onion.
Microwave corn on the cob on high for 3 minutes, set aside & let cool, then cut off kernels.
Microwave limes for 15 seconds each, then roll on counter to loosen juices.
Assemble the Salsa:
Place tomatoes, mango, peaches peppers, onion, cumin, salt, cayenne and lime juice into food processor.

Pulse until ingredients are mixed and roughly chopped.
Remove to a bowl (if you don't have a food processor just chop everything finely and mix by hand in a large bowl)
Add ½ of vinegar and ½ of Lake Winds White. Mix, and add more liquid until salsa has reached your desired consistency.
Add corn kernels. Enjoy!