Penne Parmesan with Wine & Grilled Vegetables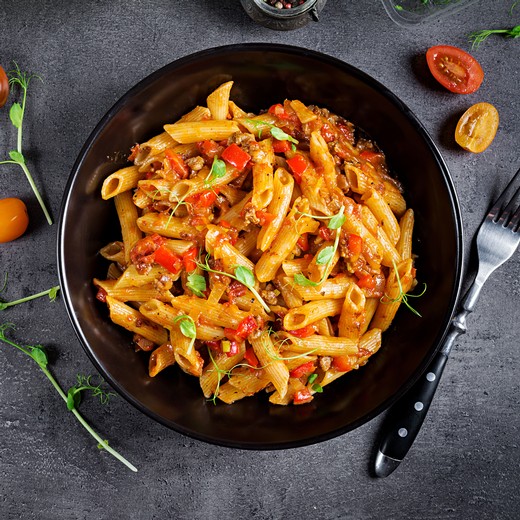 Recipe Date:
January 14, 2015
Measurements:
Imperial (US)
Ingredients
1 tbsp Salt
1 lb Penne Pasta
2 ozs Olive Oil
1 Orange Bell Pepper (Grilled & Julienne)
1 Green Bell Pepper (Grilled & Julienne)
1/2 Carrot (Grilled & Julienne)
1/4 Yellow Onion (Grilled & Julienne)
3 Cloves Garlic, Sliced & Peeled
4 ozs White Wine
4 ozs Chicken Stock
3 ozs Parmesan Cheese (Grated)
2 ozs Romano Cheese (Grated)
1/2 Roma Tomato (Diced)
1 tbsp Fresh Parsley (Chopped)
Directions
1. Cook pasta until firm.
2. Dredge & grill vegetables.
3. Heat olive oil and garlic in a large skillet. Add White Wine, chicken stock, parmesan & romano cheese and warm.
4. When all ingredients are hot, toss together.
5. Top with parmesan cheese and parsley to serve.
*Recipe courtesy of Rainer's Gourmet Inspirations adapted from TheScrumptiousPumpkin.com recipe for Grilled Vegetable Pasta with White Wine and Parmesan.