Pumpkin Cupcakes with Orchard Blossom Glaze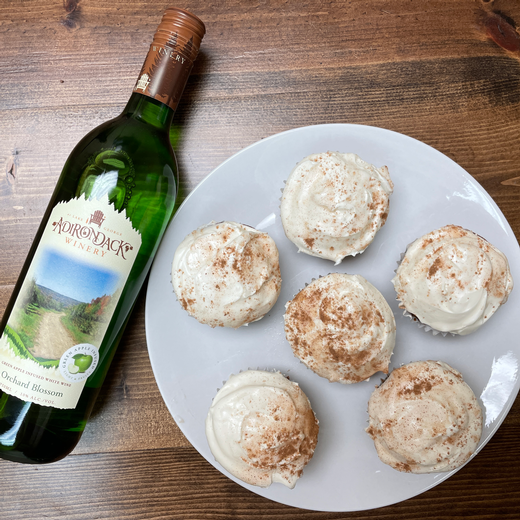 Recipe Date:
November 18, 2020
Measurements:
Imperial (US)
Indulge in these delicious cupcakes with cream cheese frosting, topped with ADK Winery Orchard Blossom Glaze! The taste of fall in every bite. The perfect dessert to enjoy after your Thanksgiving meal!
Ingredients
1 cup all-purpose flour (spoon & leveled)
1 tsp baking powder
1/2 tsp baking soda
1/2 tsp salt
1 tsp ground cinnamon
1 1/2 tsps pumpkin pie spice
1/2 cup canola or vegetable oil
2 eggs
3/4 packed light or dark brown sugar
1 cup canned pumpkin puree
1 tsp pure vanilla extract
Directions
Cream Cheese Frosting
8 ounces (224g) full-fat block cream cheese, softened to room temperature
1/2 cup (115g) unsalted butter, softened to room temperature
3 cups (360g) confectioners' sugar, plus an extra 1/4 cup if needed
1 teaspoon pure vanilla extract
1/8 teaspoon salt
Orchard Blossom Glaze
Place ½ cup powdered sugar into a bowl. Slowly add Orchard Blossom 1 tablespoon at a time, stirring well, until glaze has reached the desired consistency. Drizzle over Brownie. Enjoy!