Semi-Dry Riesling-Peach Glazed Ham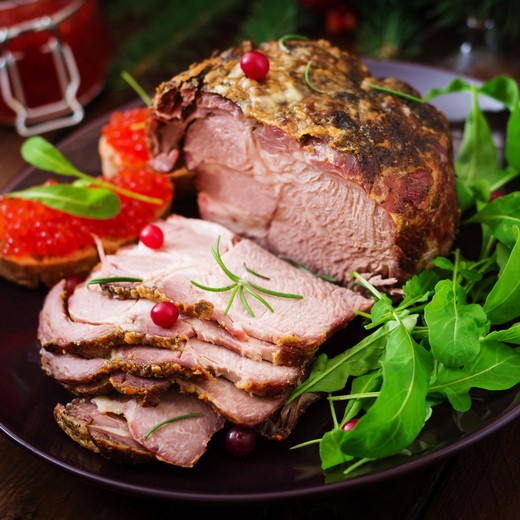 Recipe Date:
December 9, 2014
Measurements:
Imperial (US)
Ingredients
1 Fully cooked smoked, bone-in half ham (6-8lbs)
1 cup Adirondack Winery Semi-Dry Riesling
2 Sprigs of fresh thyme
1 Shallot, finely chopped
18 ozs Jar of peach preserves
1/2 cup Packed light brown sugar
1/2 cup Stone-ground mustard
Directions
Preheat oven to 350 degrees.
Line a shallow roasting pan with aluminum foil.
Place the ham on the rack in the roasting pan.
Place an ovenproof meat thermometer in the ham so the tip is in the center of the thickest part of the meat and does not touch the bone.
In a 1 quart saucepan, heat the wine, thyme, and shallot and bring to a boil over medium-high heat.
Reduce heat and simmer uncovered until the wine is reduced to 1/2 cup.
Remove from the heat and discard the thyme sprigs.
Stir in the peach preserves, mustard and brown sugar.
Brush half of the glaze mixture over the ham.
Bake uncovered for 1 hour and 30 minutes, basting with the remaining mixture every 30 minutes.
Cover loosely with aluminum foil and bake 30 minutes or until the thermometer reads at least 140 degrees.
Let stand 15 minutes.
Slice & serve
Enjoy!
*Recipe adapted from RealHousemoms.com recipe for Riesling-Peach Glazed Ham.