Soaring Strawberry Fruit Tart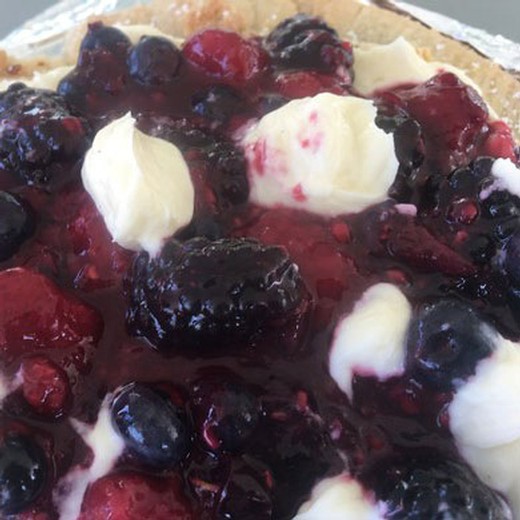 Recipe Date:
July 28, 2016
Measurements:
Imperial (US)
Soaring Strawberry infused Crust, Soaring Strawberry infused berries, & a tart lemon Mascarpone filling.
Ingredients
8 tbsps Soaring Strawberry
1/2 lb Strawberries, sliced
1/2 lb Mixed Berries (blackberries & raspberries)
1/2 cup Fruit Jam
1 1/4 cups All-Purpose Flour
1/4 tsp Salt
1/2 cup Shortening, chilled
1/2 cup Heavy Cream
8 ozs Mascarpone cheese
1 cup Lemon Curd
Directions
*Recipe courtesy of Jennalee Lukacs
Tart Crust:

​Whisk flour & salt in a medium bowl.
With pastry blender or fingertips cut in the cold shortening until mixture resembles coarse crumbs.
Drizzle 3 tbsp iced soaring strawberry over the flour.
Toss mixture with a fork until dough comes together.
Chill dough for 30 min. before rolling. Once chilled, roll & press into the tart pan.
Bake at 375 for 12-15 min or until golden brown.
Allow crust to chill completely before adding the filling.
Lemon Mascarpone Filling:

​Whip heavy cream until soft peaks form.
Beat in mascarpone cheese, mix until creamy.
Slowly add lemon curd, then sprinkle in 3 or 4 tbsp Soaring Strawberry.
Berries & Glaze:

​Heat 1/2 cup jam over medium low heat until thinned.

Mix in 2 tbsp Soaring Strawberry, remove from heat and allow to cool.

Once cool, toss in the fresh berries.
Assemble Tart: Spread mascarpone cream into cooled crust, top with berries & enjoy!