Spiced Winter Sangria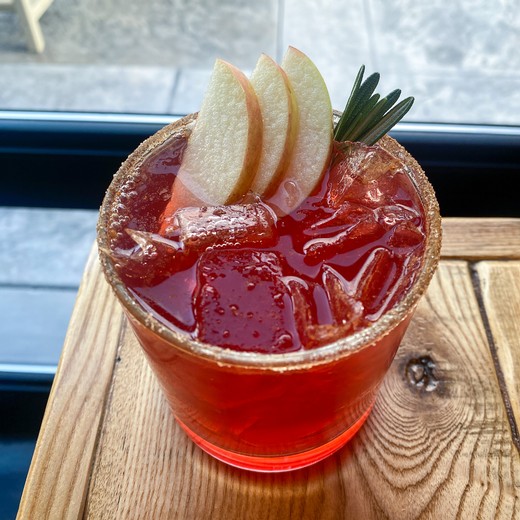 Recipe Date:
January 9, 2023
Measurements:
Imperial (US)
This delicious Winter Sangria is featured on our Winter Cocktail Flight!
Ingredients
1 Bottle Orchard Blossom
12 oz. Baco Noir
25 oz. Apple Cider
36 oz. Cranberry Juice
1 (750 mL) Bottle of Bourbon
12.5 oz. Simple Syrup
8 Cinnamon Sticks
8 Cloves of Whole Nutmeg
4 Rosemary Sprigs
3 Sliced Red Apples
Apple Slice (from container) and Rosemary Spring for Garnish
Directions
1. Combine 1 Bottle Orchard blossom, 12oz Baco noir, 25oz Apple Cider, 36oz cranberry juice, 1 (750ml) bottle Bourbon, 12.5oz rosemary simple syrup, 8 Cinnamon stix, 8 Whole nutmeg, 4 rosemary sprigs, and 3 Sliced Red Apples (wedges) in a large container.
2. Rim Rocks Glass w/ Cinnamon & Sugar
3. Fill Rocks Glass w/ Ice
4. Add 6 oz of pre-batched mixture
5. Garnish w/ an apple slice out of the container & 1 rosemary sprig