Sunny Day Pulled Pork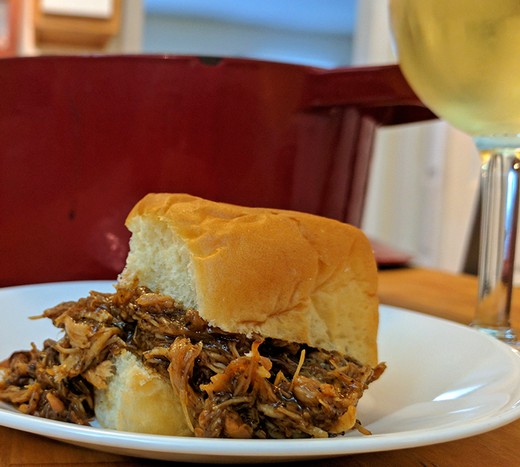 Recipe Date:
August 29, 2017
Measurements:
Imperial (US)
Ingredients
1 bottle Sunny Day (Pineapple Infused Vignoles)
6 lbs Pork Loin
1 Onion
6 cloves Garlic
1 tbsp Butter
1 tbsp Olive Oil
1 cup Water
Cumin
Garlic Powder
Paprika
BBQ Sauce
1/3 cup Soy Sauce
2 tbsps Pineapple Juice
1 tbsp Honey
2 tbsps Brown Sugar
Salt & Pepper
Directions

For the Pork:
(1) 4-6 lb pork butt roast or pork loin
1 tsp each garlic, paprika, cumin, salt & pepper
1 tbs. each butter and olive oil
1 onion sliced into thick rings
6 cloves garlic, smashed
½ cup Sunny Day Pineapple infused white wine
½ cup water
Mix all spices in a medium sized bowl. Add pork to bowl, tossing to coat all sides with spices. Heat oil and butter in a dutch oven or any heavy bottomed pan with a lid over medium heat. Sear pork on all sides. When flipping pork to final side, add onion and garlic. Sautee with pork until slightly softened and fragrant. Add Sunny day and water. Keep at medium heat, and let simmer for about 5 minutes or until reduced slightly, stirring to loosen up bits of the spice rub from the pan. When liquid has reduced, cover and reduce heat to medium low. Simmer for 3-4 hours, or until pork is falling apart.
Meanwhile, prepare Sunny Day BBQ Sauce . . .
For the Sunny Day BBQ Sauce:
16 ounces of your favorite BBQ Sauce
½ cup Sunny Day
1/3 cup soy sauce
2 tbs brown sugar
2 tbs pineapple juice
1 tbs honey
1 tsp each garlic powder, smoked paprika, pepper and salt
½ tsp cumin
Mix all ingredients together in a saucepan. Bring to a boil, then reduce heat to medium low and simmer for 30-45 minutes, or until sauce has thickened to desired to consistency. Set aside to cool until pork is finished.
When pork is finished, remove to a bowl to rest. Return pan with juices, onions and garlic to medium heat. Whisk often, breaking up vegetables until juices have reduced to about 1 cup of thick liquid. Remove from heat. Add pork back to pan and shred with 2 forks. Add 1-2 cups of bbq sauce a little bit at a time until pulled pork is the perfect amount of sauciness. Pile up on a Hawaiian sweet roll and enjoy with a glass of Sunny Day! Enjoy!