Soaring Strawberry Wine Infused Shortbread Cookies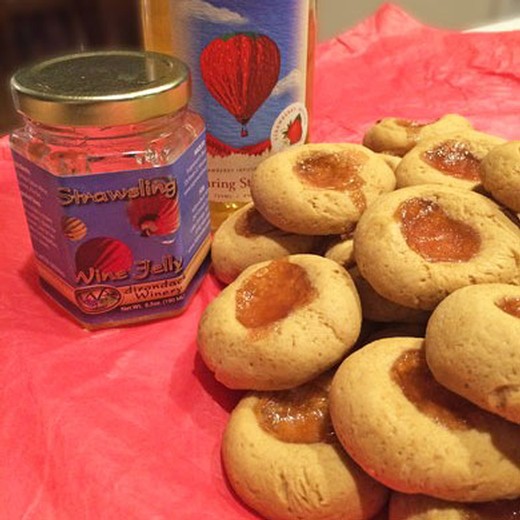 Recipe Date:
December 10, 2014
Measurements:
Imperial (US)
Ingredients
10 tbsps Butter, room temperature
2/3 cup Light brown sugar
1 tsp Salt
1 Large egg yolk
3 tbsps Adirondack Winery White Wine (We used Soaring Strawberry for this recipe)
1 1/2 cups Flour
1/2 Jar of jelly or jam of your choice. (Try our Strawsling Wine Jelly!)
Directions
1. Preheat oven to 325 degrees F.
2. Cream the butter, sugar, and salt with an electric mixer or by hand. Add the egg yolk and mix until fully incorporated. Add the wine and mix until fully incorporated. *Any white wine will work.. so choose what you love the most! I chose Soaring Strawberry because I knew I had wine jelly to match!
3. Carefully add the flour a little at a time until it is mixed in fully and the dough is very slightly crumbly, but not dry. (note: you may have to add more than the recipe calls for)
4. Form the dough into a ball and divide in 2. Dust a work area with flour.
5. Roll the 2 halves of dough into logs approx. 1 foot in length and 1.5 inches in diameter. Slice the dough into 3/4 inch cookies and arrange them on a cookie sheet lined with parchment paper. (rolling the pieces into little balls works well, too)
6. Using the back of a spoon or your thumb, press a little indentation in the center of each cookie. Spoon a small amount of the jelly or jam onto each cookie.
7. Bake at 325 degrees for 15 minutes.
Recipe yields approx. 2 dozen cookies.
*Recipe adapted from TokyoTerrace.com recipe for Brown Sugar Shortbread with Fig Jam.