Wild Red BBQ Spare Ribs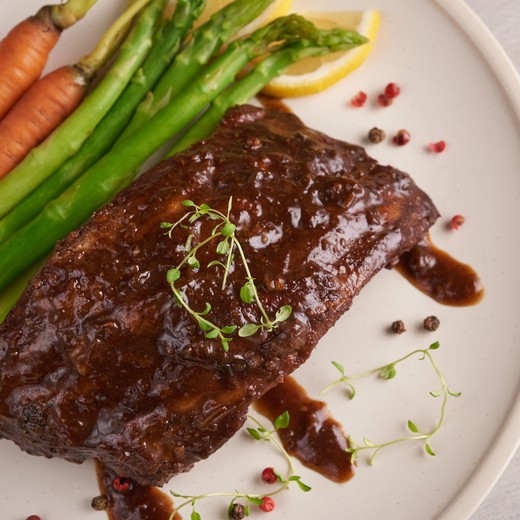 Recipe Date:
May 15, 2020
Measurements:
Imperial (US)
Ingredients
2 racks of spareribs
1 1/2 cups Jackie's BBQ rub
1 cup ketchup
1 cup Wild Red
1/2 cup dark cherry preserves
1/4 cup Worcestershire sauce
2 tbsps brown sugar loosely packed
1 tbsp Jackie's BBQ rub
Directions
Ribs Instructions:
Remove the blush white membrane from the back of the ribs with a sharp knife, be careful to not remove the meat.
Split racks into 2 equal-sized pieces (easier to manage).
Use heavy-duty aluminum foil and place each portion of spare rib on separate foil rectangles.
Sprinkle Jackie's Rub all over every surface of the ribs (DO NOT RUB IN).
Tightly wrap the ribs in aluminum foil (you may want to use 2 sheets of foil to double wrap them so there won't be any leakage).
Let sit in the refrigerator overnight.
Set oven to 250*
Place ribs in oven on top rack (do not remove foil).
Place a baking dish with water in it on the bottom rack (check the water level every 2 hours, fill if needed).
Cook for approximately 6 hours.
Remove ribs from oven, let cool for 20 mins.
Preheat BBQ grill to medium…then leave one burner on.
Remove ribs from foil and place on platter.
Slather ribs in BBQ sauce on both sides.
Place ribs on top rack (if there is one) or directly on grill where burner is off (you want indirect heat on these so the sugars don't burn on the ribs).
Every 5 mins turn ribs, applying BBQ sauce each time for a total of twice each side.
Serve with extra BBQ sauce on the side.
Wild Red BBQ Sauce Instructions:
Put all ingredients into saucepan and simmer until reduced to 1 ½ Cups (sauce should coat the back of a wooden spoon).
Remove from heat and cool.