200% Growth & We're Just Getting Started!

Adirondack Winery has experienced over 200% growth over the past 5 years, and we are embarking on our biggest growth opportunity yet!
That's where you come in! Join us as we take our next step!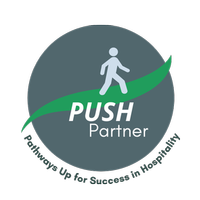 ---
This May, we opened our all-new Tasting Room and Winemaking Facility in Queensbury. Here we plan to triple our winemaking production and offer events unlike any other in the region! Does that sound like something you'd like to be a part of?
Currently, we have open positions throughout the company. Not your field but like the idea of getting with a growing company? Get in on the ground floor, work hard and create opportunity with us - as we grow we will have the need for new positions in tasting rooms, events, marketing, sales, wine making, management, operations and more! At Adirondack Winery, you are not just a number; your contribution counts!
For Full Time Employees, Adirondack Winery offers medical, dental and vision benefits; 401K w/ matching; PTO and Holiday Time; 1 bottle of wine per week, employee discounts and more!
For Part Time Employees, we offer competitive wages, flexible schedules, 30% off wine, bonus rewards for meeting goals, and more! Click here or scroll past the openings below to find out why Adirondack Winery is a great place to work!
Click here to read the Post Star article about our expansion plans.
---
Join the Adirondack Winery Team!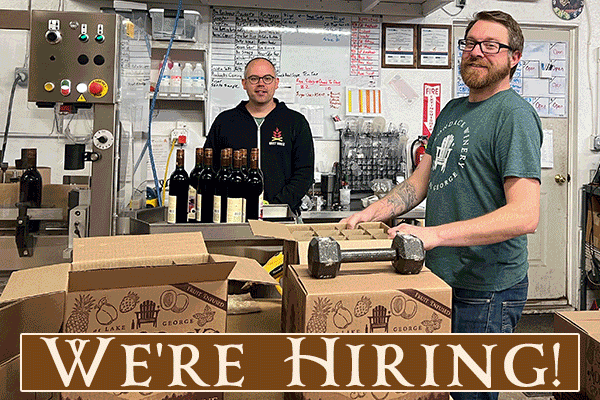 We're looking for people that embody our Company's Core Values... Do you?
If so, email us to tell us how... include your impressive resume and best cover letter while you're at it!
Adirondack Winery is looking for a multi-talented person to join our growing staff. If you're interested in the wine-making process and don't mind getting your hands dirty, this position might be the one for you! Click here to view this position and apply on Indeed.
Full Charge Bookkeeper (Full-Time)
Adirondack Winery is seeking the right person to manage our books and become an integral part of our company. The ideal candidate would be a high-energy, A-type personality that is driven to achieve in their career and takes great pride in their work. If you have worked with a small, family-owned business in the past and had a hand in their growth, we'd love to talk to you. We are looking for a candidate who is comfortable building upon our current bookkeeping and accounting processes. If this sounds like an interesting position for you, we would love to hear from you! Click here to view this position, and apply, on Indeed.
At Adirondack Winery, we do all our marketing in-house! As the Marketing Assistant, guaranteed no day will be the same with what you're working on! You will assist our Marketing Specialists and Festival Manager with a variety of marketing activities including social media content (Facebook, Instagram, TikTok), website editing, graphic design, marketing material creation, photography editing, videography, podcasting, blog content, signage creation, email marketing, advertising, public relations, event marketing, e-commerce and more! Click here to view this position, and apply, on Indeed.
We're looking for an experienced Team Leader who will assist the Tasting Room Manager and Assistant Manager with the daily operations of our Tasting Rooms. Leads contribute greatly to the continued growth of revenue at our Tasting Rooms and play an important part in building a strong team of associates and keeping the tasting room running smoothly, according to our policies and procedures. In the absence of Tasting Room Management, Leads oversee daily operations and supervise the Tasting Room Associates on duty. Click here to view this position, and apply, on Indeed.
As our Bar/Kitchen Manager, you will work closely with our Senior Tasting Room Manager to ensure the smooth operation of our bar and kitchen at the brand-new Adirondack Winery Tasting Room in Queensbury! Here you will manage our small kitchen in the preparation and creation of our beautiful charcuterie boards and oversee our full bar where we present our wines, local beers, spirits, and specialty cocktails to our visitors. We are looking for a food & beverage artist of sorts who will also help us in creating seasonal specialty charcuterie boards and eye-catching delicious cocktails! Click here to view this position, and apply, on Indeed.
Our Tasting Room Associates are the first face of our business. You welcome our customers into our Tasting Rooms in Lake George and Queensbury with a smile and build lasting relationships with our customers, with the goal of finding the right wines for their palate to take home with them! Click here to view this position, and apply, on Indeed.
As the Assistant Winemaker, you will be directly involved with the locally handcrafted and award-winning wines that our Adirondack community has grown to love. Since 2008, Adirondack Winery has established two tasting rooms and ships to thousands of customers in 35 states. In addition, our wine can be found in nearly 400 liquor stores and restaurants throughout Upstate New York! Click here to view this position, and apply, on Indeed.
If you would like to be considered for any of these positions, please click here to submit your resume.
---