Adirondack Winery Party Packages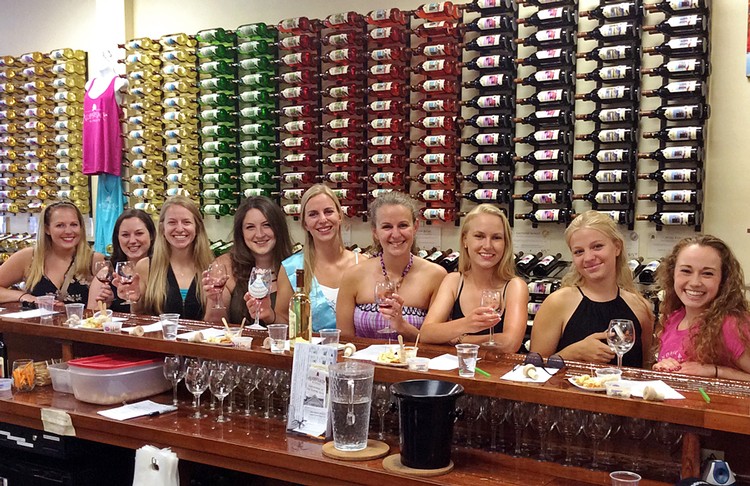 *Note: Due to COVID-19 social distancing, we cannot accomodate parties larger than 5 ppl at this time. We will update this page and notify our email subscribers when this changes. All party package items are available a la carte if you are interested in celebrating at home. Click here to learn more!
Party packages are the best way to celebrate Bachelorette Parties, Birthdays, Anniversaries, College Graduations, Family Reunions, Lake George Getaways with Friends or any special occasion!
Plus, Your Guest of Honor is FREE when you book a party package for 5 people - for only $160! (i.e. Guest of Honor + 4 guests)!
Your Guest of Honor Gets the Following FREE (a $56 value!):

And Each Party Guest Gets the Following:
7 samples of our most popular wines (approx. 1/2 ounce pours)
A souvenir Adirondack Winery logo wine glass
A stainless steel wine tumbler etched by a local artist (for bachelorette parties, will say "We Said Wine" with Adirondack Winery logo on the back; for birthday parties, will say "This Is My Birthday Drinking Cup")
1 wine cocktail / slushie (seasonal selections)
10% discount on wine & gift items*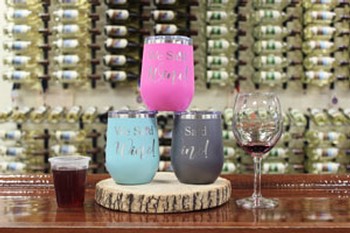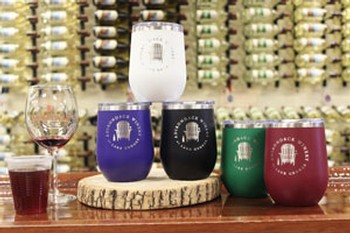 Additional guests can be added for the following prices:
6-7 guests: $35 per person | 8-9 guests: $32 per person
10+ guests: $30



Plus, the following a la carte options are also available to kick your party up a notch!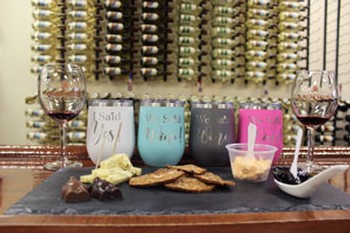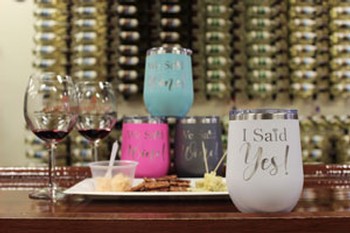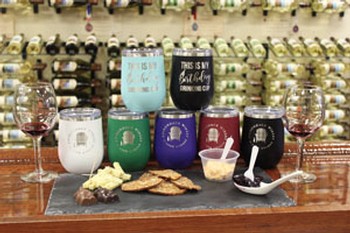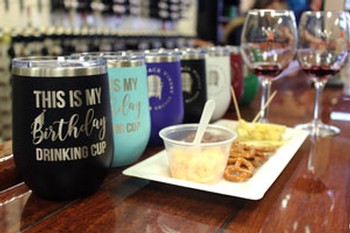 Premium / Dessert Wine Sample: $1 per person
Wine Glass Necklace Holder: $6 per person
Locavore Slate Plate: $10 (serves 2-3 people. Features locally made goat cheese, cheddar cheese, premium crackers, 2 chocolate truffles, and a gourmet food spread.)
Cheese Plate: $5 (Serves 2-3 people. Features a locally made goat cheese and cheddar cheese with pretzels.)
Locavore Cheese Platter: $55 per plate (Reserved for groups of 25-50. Includes locally made artisanal goat cheese, cheddar cheese, premium crackers and pretzels, and a bunch of grapes.)
*Wine and accessory discount must be redeemed during group visit. Excludes already discounted merchandise; cannot be combined with other offers, deals or discounts.
---
Ready to Book Your Party Package? Complete the form below and an Adirondack Winery representative will reach out to you directly!
**PLEASE NOTE: We require a notice of at least 2 weeks in order to accommodate your reservation.
***All reservations submitted are not guaranteed. An associate will get back to you, approving the day and time.

<<Click here to download or our full Party Package policies booklet.>>

---
Party Package Testimonials:

"This location was wonderful to have a stop for our Bachelorette Party..." - Andrea L.
"This was a surprise stop during my bachelorette weekend in Lake George. What an awesome time!" - Kristie G.
"The bride loved the special wine glass she got. From the wine glasses to the tasting, everything was on point." - Kelly M.
---