Wine Clubs
Four times per year, you (or your gift recipient) receives three bottles of Adirondack Winery wine in the style of your choice & enjoy loads of club membership benefits!

SHIP or PICKUP: Sit back & relax and have our wines shipped to your door...or choose our pickup option and redeem your FREE wine tasting session for two benefit each time you pickup your club installment at our Lake George Tasting Room!

QUARTERLY: Each quarter (1st week of Mar, Jun, Sep, Dec), we choose three wines for your club installment we think you'll enjoy.

FREE BOTTLE: In your very first installment, we'll send you an extra FREE bottle of wine of your choice as a WELCOME to the Wine Club! And when you're a member for 1 year+, we send a FREE bottle in your December installment!
*Please note - if you do not write the name of your free bottle choice in the order notes section, a bottle will be chosen for you.

DISCOUNTS: Wine Club Members get awesome discounts on wine, gifts and event tickets, plus FREE Wine Tasting Sessions when you visit! SEE ALL BENEFITS>>

NEW WINES: A privilege of being a Wine Club Member is being among the first to receive new or limited supply wines - we'll do our best to include them in your club installment!

GIFT & PAY: Wine Club membership is the gift that keeps on giving - whether for yourself, a friend or loved one! We offer numerous subscription and payment options.
---
Choose the Wine Club that Best Fits your Taste!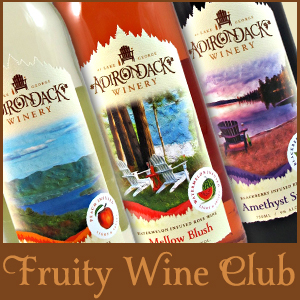 Our signature line of fruit-infused wines are the perfect option for the wine lover with a sweet tooth or the wine beginner.
Each quarter, we'll choose 3 of our light, semi-sweet wines for these wine club members.
PRICE: $40.00 Per Installment (+$12 if Shipping)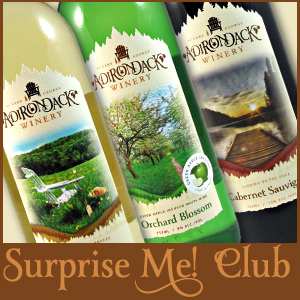 Are you an adventerous spirit, or do you love all our wines and just can't make up your mind?
Then the Surprise Me Club is for You! We'll include a variety of wines in each installment... something red, something white, something sweet... enjoy!
PRICE: $42.00 Per Installment (+$12 if Shipping)

---
Wine Club Membership Privileges:
FREE Bottle of Wine in your very first Club Installment (Note your choice in club notes section on this page)
*Please note - if you do not write the name of your free bottle choice in the order notes section, a bottle will be chosen for you.
FREE Wine Tastings for you & 3 guests (limit 1 session per month at each of our locations in Lake George, Bolton Landing and Queensbury).

Online Wine Discounts:

FREE Shipping + 10% OFF 12+btls
$5 Shipping + 5% OFF 6+btls
$12 Shipping + 10% OFF 1-5 btls

In-Store Wine Discounts:

20% OFF 12+btls
15% off 6+ btls
10% off 1-5 btls

10% OFF Wine Accessories, Gifts & Food Items

Exclusive Club Member Event Ticket Deals, per event basis (Our annual Anniversary Party in April Cannot be missed!)
Four (4) Club Member events at the Tasting Room per year Including: FREE Upgraded Tastings, Surprise Giveaways & More!
Valued Club Member Treatment: We do our BEST to make time & space for you at the Tasting Room when you use your club perks. Exclusive Club Member Phone Extension.
Receive New, Limited Edition and Soon-to-be discontinued wines in your club installments!
Wine Club Newsletter w/ Wine Details, Upcoming Events, Recipes & More!
FREE Bottle of wine in December shipment when you stay enrolled for more than one year!
---
WINE SHIPPING FAQ's
Adult (21+) MUST show photo ID at Delivery!
Ship where recipient spends most of weekdays 9a to 5p - unsuccessful delivery comes at a cost.