Bring a Box of the Adirondacks Home with THE ADK - our official Wine Club! You'll get 3 bottles of our newest & most popular wines 4x per year! Pick up or have the box delivered directly to your door! Makes a great unique gift!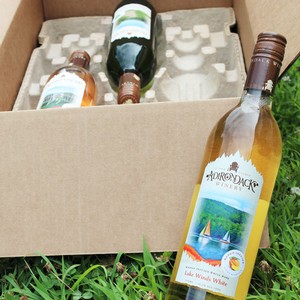 SHIP or PICKUP: Sit back & relax and have our wines shipped directly to your door...or choose our pickup option and redeem your FREE Wine Tasting Benefit!

DIFFERENT WINES EVERY TIME: Every 3 months (March, June, September, December), we'll send you a new shipment with wines based on your preferences!

FREE BOTTLE: In your very first installment, we'll send you an extra FREE bottle of wine of your choice as a WELCOME to the Club!

DISCOUNTS: ADK Wine Club Members get awesome discounts on wine, gifts, event tickets & more!

NEW WINES: Be among the first to receive new or limited supply wines - we'll do our best to include them in your club installment!

GIFT & PAY: ADK Wine Club membership is the gift that keeps on giving - whether for yourself, a friend or loved one! We offer numerous subscription and payment options.

FREE QUARTERLY WINE TASTINGS: ADK Wine Club Members get a FREE wine tasting for them and up to 3 friends every 3 months! (Reservations strongly encouraged and we cannot guarantee space for those without reservations. Click here to book yours. Thank you for your understanding!)
---
Choose the Wines You Like!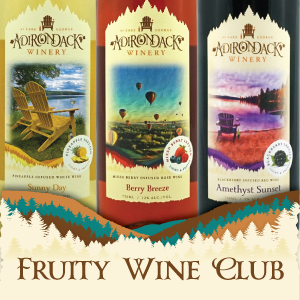 Our signature line of fruit-infused wines are the perfect option for the wine lover with a sweet tooth or a newcomer.
Each quarter, we'll choose 3 of our light, semi-sweet wines for these ADK Wine Club Members.
PRICE: $40.00 Per Installment (+$15 if Shipping)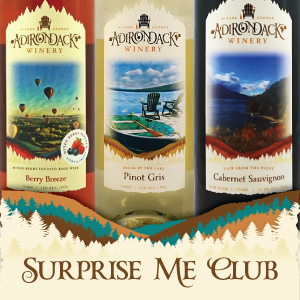 Are you an adventerous spirit, or do you love all our wines and just can't make up your mind?
Then the Surprise Me Club is for You! We'll include a variety of wines in each installment... something red, something white, something sweet... enjoy!
PRICE: $42.00 Per Installment (+$15 if Shipping)

---
Wine Club Membership Privileges:
FREE BOTTLE of Wine in your very first Club Installment (Note your choice in the Club Notes section on the checkout page.) *Please note - if you do not write the name of your free bottle choice in the order notes section, a bottle will be chosen for you.
FREE WINE TASTINGS for you & 3 guests (limit 1 session per quarter at one of our locations in Lake George, Bolton Landing or Queensbury). Click here to book yours!

Club Discounts Now Available In Store & Online!

25% OFF 12+ btls + FREE Shipping
20% OFF 6-11 btls + FREE Shipping (Temp. Starting 3/30/20)
15% OFF 1-5 btls + $15 Shipping
(Cannot be combined with other bottle deals. For a limited time only.)

EXCLUSIVE Discounts sent to Club Members during our Club Weekends 4x per year!

FREE BOTTLE in your December shipment when you've been a member for 1 year+
---
WINE SHIPPING FAQ's
Adult (21+) MUST show photo ID at Delivery!
Ship where recipient spends most of weekdays 9a to 5p - unsuccessful delivery comes at a cost.