January 14, 2021 | Angelina Groccia
Find Out Why Our Rieslings Are So Special!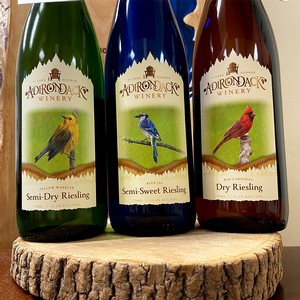 Harvested in the Finger Lakes Region of Upstate New York, our Riesling grapes are powerful and authentic; they pack the perfect punch of flavor and acidity. They are light and delicate. When Riesling grapes are grown in cooler climates versus much warmer ones they avoid becoming too ripe and flabby, making the Finger Lakes an ideal place to harvest such grapes. Due to the climate that our grapes are grown in, our Riesling wines maintain their natural aromas of peach and citrus that hit your nose the moment you open the bottle.
To ensure that there is a Riesling wine for every palate, Adirondack Winery has created three very unique Rieslings: Semi-Sweet, Semi-Dry, and Dry Riesling. They each have notable differences that you can both smell and taste, and we are here to walk you through finding the perfect one for you!
CLICK HERE TO SHOP FOR OUR 2016 LIBRARY WINE RIESLINGS
Semi-Sweet Riesling: Silky, creamy and sweet
Our Semi-Sweet Riesling is a fan favorite due to its luscious full body and sweet aromas of peach and honeysuckle. Flavors of juicy pineapple and a hint of lime envelope the tongue and linger there for a smooth finish. This wine is popular among customers and critics alike! Adirondack Winery's Semi-Sweet Riesling has won several medals, including a Gold medal at the 2016 International Craft Competition and a Silver medal at the 2016 New York State Fair.
Semi-Dry Riesling: Smooth, crisp and expressive
For those who are caught between favoring a sweet or dry wine, our Semi-Dry Riesling is the perfect balance of subtle sweetness and a mild dryness. This unique Riesling offers subtle aromas of apricot and tastes of green apple and pear, remaining true and consistent to it's natural state. You will find that this wine finishes with a well-balanced, soft acidity that many wine drinkers note as being among their favorite things about this wine. In fact, our Semi-Dry Riesling won Adirondack Winery the title of "New York Riesling Winery of the Year" in 2015 when it won a Gold medal at the NY International Wine Competition.
Dry Riesling: Zesty, light and fresh
The last of our three different Riesling styles is our Dry Riesling wine. It is moderately full-bodied yet zesty and fresh! Upon hitting the palate, this Dry Riesling offers notes of tropical fruit and peach, with clean acidity and lingering spiciness. Its distinctive flavor profile has claimed several awards in various wine competitions, including a Silver medal in the 2016 Finger Lakes International Wine Competition AND the 2015 World Wine Championships. Another noteworthy achievement is 2016 Library Wine won a Silver medal at the 2018 Sommelier Challenge. Needless to say, we are very proud of this Riesling.
2016 Library Wine Rieslings: Limited-time New Releases
Adirondack Winery selects very few wines to age into Library wines based on specific criteria. We look for wines that have exceptional taste and grape quality that we are confident will age into even more exceptional wine vintages. Also, wines that are most popular among our customers and wine critics are considered, or those with limited production. Library wines are stored on their side in a cool, dark wine cellar to preserve and protect the taste of the wine and guarantee its authenticity. These wines are typically aged inside their bottles for 4-5 years until they have reached peak maturity.
We are excited to announce that our 2016 vintage Riesling wines are graduating from the wine cellar, as they are done aging into exquisite Library wines. Each style of Riesling has been kept tucked away for the last several years to complete the aging process and enhance their flavor profiles. Adirondack Winery is finally releasing these three Library Wine Rieslings in a limited quantity and you must try them all! Shop our all-new 2016 Library Semi-Sweet Riesling, 2016 Library Semi-Dry Riesling, and 2016 Library Dry Riesling! We could explain to you the difference, but it truly is something that you need to experience yourself.
Comments
Commenting has been turned off.