December 5, 2016 | Seasonal Favorites, Wine Guides | Adirondack Winery Staff
7 Wines for the Holidays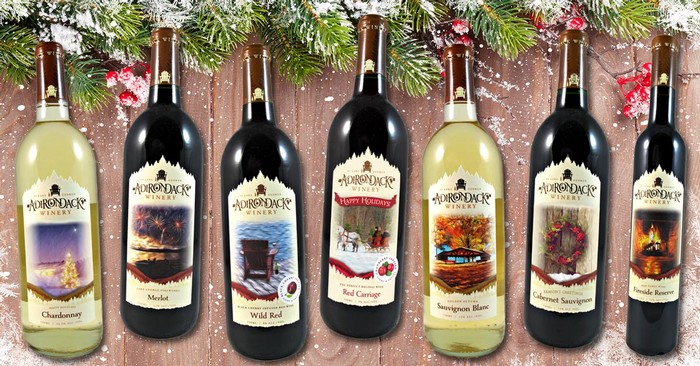 The holiday season is here, and whether that means you're wrapping presents, hosting a holiday party, or just dining at home, we have the perfect wine for you! Scroll down to see the list of our favorite wines for this time of year.
We're starting this list with a wine we love so much, we made a special label for it, just for the holidays! Dynamic fruit tones, beautifully balanced with oak, make this wine a great addition to your table centerpiece. It's easy drinking and pairs well with just about anything from cocktail hour to dessert! Try Cabernet Sauvignon (holiday label)>>
If you're serving red, you'll need to have a white on hand too – we suggest our Sauvignon Blanc. Light, crisp, and easy to drink, with citrus and delightfully understated herbaceous tones, not only does this wine go well with anything, it's versatile too. It makes an incredible sangria and tastes great mulled! Try Sauvignon Blanc>>
A fruit infused wine that's a little out of the norm, Wild Red is dark and sweet, and guaranteed to delight! Infused with black cherry and best served chilled, we love this light and fruity wine paired with brie or blue cheese, but it also makes a great compliment to berry-based desserts. Try Wild Red>>
One of our favorites no matter the time of year, there's something about our Merlot that always makes us think of the holidays. It's medium-bodied, soft, silky and fruit-forward. It bursts with tones of dark berry with a touch of brown spice and herbs and makes a great companion for cocktail hour. Try Merlot>>
We may have changed our Chardonnay this year, but we couldn't give up the special holiday label! Our unoaked Chardonnay allows the true fruity characteristics of the New York Chardonnay grape to show through. It's an extremely versatile white wine with notes of golden delicious apple. We like it paired with poultry and seafood, but you really can't go wrong with this one. Try Unoaked Chardonnay (holiday label)>>
How could we possibly leave Red Carriage off of this list?! One of our most popular wines, this Cranberry Infused red has become a holiday staple! It's semi-sweet and light-bodied, and disappears surprisingly fast! We love it chilled, but try this mulled wine recipe and impress your guests at you next holiday function! Quantities are limited, try Red Carriage>>
Like a good holiday meal, we're going to finish this list with dessert. Fireside Reserve is a traditional Port stlye wine. It's sweet enough to enjoy on its own, but we love it paired with dark chocolate for a little extra indulgence. We can't imagine a better way to end the day than with a glass of Fireside Reserve in front of a crackling fire. Try Fireside Reserve>>

Comments
Commenting has been turned off.