July 22, 2016 | Adirondack Winery "Survival Kits", Seasonal Favorites | Adirondack Winery Staff
Adirondack Winery Summer Survival Kit - 5 Summer Essentials For Any Day Out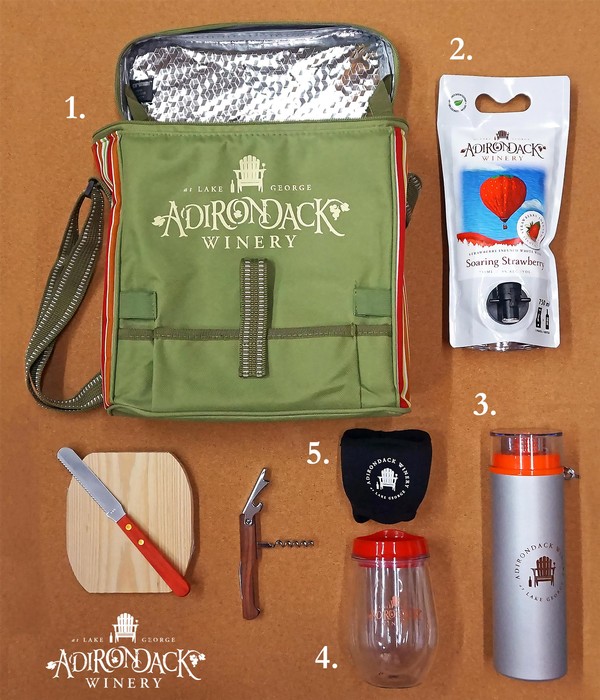 Day on the lake, at the track, or just out for a picnic, don't leave home without an Adirondack Winery Survival Kit! Here are 5 essentials for any summer day out:
(clockwise from top left)
Fully insulated with plenty of room for wine, cheese, snacks and more. Comes neat and organized with corkscrew, cheese board and knife! Throw in an ice pack to keep everything nice and chilled!
Portable, packable, and re-sealable! Astrapouches hold the equivalent of one 750ml bottle of wine, chill faster and stay fresher, longer! Available with Soaring Strawberry, Amethyst Sunset or Prospect Mountain White.
NEW for 2016, the perfect alternative to glass bottles! Take your favorite wine with you in this stainless steel canteen. The screw-on lid and spout make pouring easy and protects from spills.
An Adirondack Winery Favorite! Leave the glass at home and grab a Go Cup! Air insulation keeps your wine cooler longer, and press-on lid prevents spills and makes pouring and sipping a cinch. Available in aqua, orange, red and black.
Give your wine a hug! No more warm wine or wet glass to hold, our NEW VinoHugs keep the temperature constant no matter where you take your wine. 3-way strech neoprene and handwashable, fits most glasses.
Get the air out of your opened bottles and keep your favorite wines fresh! This sleek pump is portable and effective, and you can reuse the stopper again and again!
Comments
Commenting has been turned off.