June 29, 2023 | Wine Pairing Recommendations | Adirondack Winery Staff
Backyard BBQ Wine Pairing Guide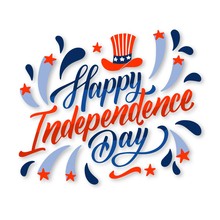 Weather is warming, plants are blooming, and spring rains are making way for perfect sunny summer days. It's time to put away our winter clothes, plant out our gardens, and clean off the grill. To many, the backyard is the best place to cook, especially when surrounded by friends, family and fresh air! In order to celebrate the time of year – just in time for Independence Day – we've put together a few of our favorite backyard barbecue food and wine pairings!
The classic association for backyard beverages is BBQ and beer. However, when paired just right, a little wine can be refreshing and elevate your meal in truly unique ways. The most important thing to remember when pairing with just about every barbecue dish, is to consider the toppings just as much, if not more than the meat. Not to mention that everyone does barbecue their own way – but that's what makes it so great!
BURGERS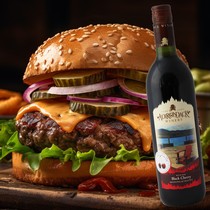 Smokey bacon, melted cheese, fresh lettuce and tomato – no matter how you prepare it, there is no denying that the perfect hamburger is the pinnacle of backyard barbecue cooking. There is no right way to prepare a burger, but the one thing they all have in common, no matter the toppings, is that they are loaded with flavor. You'll need a well-balanced and bold wine, loaded with lush fruit. That's why we suggest our Wild Red. This semi-sweet, light-bodied wine presents the succulent flavor of ripe black cherries balanced with a subtle touch of tannins.
BBQ CHICKEN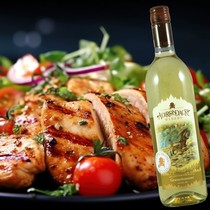 Barbecue chicken: cooked by many, perfected by few, enjoyed by all. No matter the preparation, good barbecue chicken is going to deliver an unmatched array of flavor. A robust barbecue sauce demands a robust wine. One that can tangle with all that flavor. A wine like our Pinot Noir! Enjoy aromas and flavors of dark berries, complemented by light oak and tannins for a smooth finish. Bursting with complex flavors, this Pinot Noir is medium-bodied, offering aromas and flavors of dark berries, complemented by light oak and tannins for a smooth finish. Do you prefer your chicken with a healthy dose of spice? Pour a glass of Gewurztraminer! It's pleasantly aromatic, nicely balanced with light sweetness, and has what it takes to stand up to heat.
GRILLED SHRIMP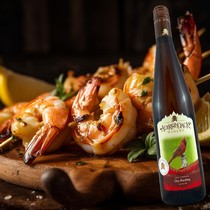 Those looking for something lighter often find grilled shrimp fits the bill. Skewered with veggies or scatter on top of the grill, it's a dish that is light in stature and flavor. It demands a crisp wine that won't overpower it. We recommend our Dry Riesling. It is exceptionally well-rounded, zesty and fresh. Notes of tropical fruit and peach, with a clean acidity and lingering spiciness make it a match made in shellfish heaven!
BBQ RIBS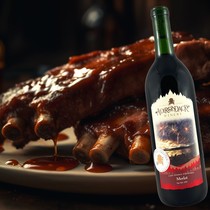 Making ribs can be a tricky game to play, but when executed correctly, can be the highlight of your barbecue. Beef or pork, ribs come with lots of flavor and lots of fat, so it's particularly important to try to pair with the sauce and not the meat. We suggest our Merlot for the perfect rack of ribs. Our Merlot is a full-bodied dry wine boasting deep purple hues and earthy tones complemented by ripe black cherry and oaky flavors, easy tannins and a silky finish.
HOT DOGS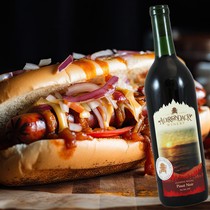 Who doesn't like a grilled hot dog? Beef, pork, or poultry, a dog on a toasted bun makes the perfect vehicle for getting creative with toppings. Hot dogs are the most versatile of the backyard barbecue foods. That's why we suggest our most versatile red wine, Pinot Noir. Pleasantly drinkable under just about any circumstances, this wine plays well with everything. It's medium-bodied and dry, with a surprisingly refreshing and smooth finish. This wine is particularly well-balanced, light and crisp, and exceptionally drinkable.
SIDES
What would a backyard barbecue be without a few side dishes?! Really, any of the wines we've suggested so far would work well – you'll be enjoying them with your entrees after all! But if you want to go a step further, here are a couple suggestions.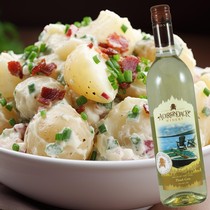 For a classic potato salad, you'll need something dry, with enough body to balance the heaviness of the salad. Our top choice is Pinot Gris. One of our favorites, it is dry and has just enough body to balance. The apple and honey notes act to enhance any potato salad.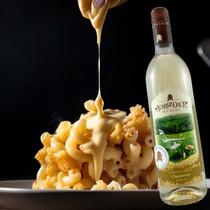 If you're serving up Mac & Cheese, you'll want to pour a glass of Chardonnay or Pinot Noir. Mac & Cheese can happily pair with just about any wine, but you definitely can't go wrong with either of these. Our Chardonnay is lightly oaked and dry, with enough flavor to enhance every single bite!
FRUIT INFUSED WINES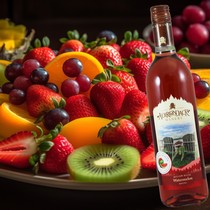 I hope you didn't think we forgot our fruit infused wines! And what fruits go over better at a barbecue than watermelon and strawberries. That's why you can't go wrong with opening a bottle of Soaring Strawberry – a light, refreshing and delightfully sweet white wine – or Mellow Blush – a crisp and juicy watermelon infused rose! Both wines are best served chilled.
Try these Wine Infused Cocktails!
As always, the perfect pairing for any meal is your favorite wine, no matter what it is. We hope you enjoy our suggestions. Happy Independence Day and Happy Summer!
*All paring suggestions are based on unique profiles of wines from Adirondack Winery.
Want more wine and food pairing recommendations? Let us know what you want to see next in the comments!
Comments
Elizabeth

@ May 25, 2016 at 6:19 PM

Great article. I never think about what to pair up with a hot dog or mac and cheese. Good to know ideas :-)

Commenting has been turned off.