July 17, 2014 | Adirondack Winery's This and That... | Adirondack Winery Staff
Happy Trails to You!
You've heard the phrase "Think Local" plenty of times before, and sure, you love the idea of keeping local, small businesses alive and thriving, but maybe you just don't know where to go.
The Adirondack Craft Beverage Trail and Map has just made it so much simpler, and a lot more fun to not only "Think Local," but to "Drink Local!" Thirteen of the region's craft beverage producers have teamed up to create a trail and map for you to set out to find your new favorite wine, beer or spirit. I am proud to say that Adirondack Winery is amongst these members, providing craft beverages to both tourists and locals alike.
This summer, the Adirondack Craft Beverage Trail and Map placed 30,000 maps at 300 locations across the Capital District, including the locations of your favorite trail members (since you're reading our blog, I hope that means us!). While we all secretly (or not so secretly) hope that we are your favorite, we are happy to send you off to travel the trail and experience all that the Adirondacks have to offer when it comes to craft beverages because at the end of the day, supporting each other is supporting the community.
While I may get pure enjoyment out of seeing someone drink a glass of Strawsling or Adirondack Winery Baco Noir, I understand that for some people, beer may be their drink of choice; In that case, I would much rather see them drinking a pint of Adirondack Brewery Bear Naked than let's say, a beer that rhymes with Mud Night! If spirits is more your thing,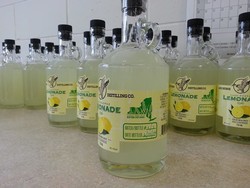 Lake George Distilling Co. has their own spin on Lemonade that is sure to quench your thirst in the summer heat.
The Adirondack Craft Beverage Trail and Map was kicked off this summer, by not only distributing the maps, but by the members actually traveling the trail, themselves. Joined by the Adirondack Chamber of Commerce and the Post Star, we spent the day visiting each other's Tasting Rooms and places of business so that we can all honestly vouch for how great each other's products are.
"Bringing wineries, breweries and distilleries together rather than just a wine trail or beer trail - is just so important. It's a great mix," said Sasha Pardy, who owns Adirondack Winery with her husband, Michael. "I think the Adirondack Craft Beverage group is so critical to have right now in the region. We all appreciate how important it is to buy local, eat local or drink local." Click here to read the Post Star's full coverage of the Adirondack Craft Beverage Trail and Map initiative.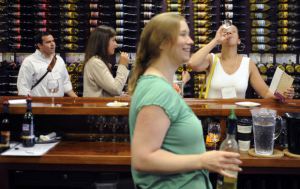 I hope to see you all out this summer, hitting "the trail!" Pick up your map today while enjoying a wine tasting at Adirondack Winery. Make sure you get your map stamped too! Anyone who gets their map stamped along an entire north or south route can bring their map to the Adirondack Regional Chamber of Commerce to redeem a free custom beverage glass. If you complete both routes, you get a set of four glasses!
Cheers... and Happy Trails!
Comments
Commenting has been turned off.